International law firm Osborne Clarke has confirmed it will relocate its Bristol office to a yet-to-be-built office development being hailed as the city's 'smartest' building.
The firm, which employs around 600 people at its showpiece Temple Quay office, has agreed to take nearly two thirds – 74,000 sq ft – of the Halo building two years ahead of its completion.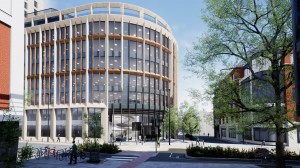 The 116,000 sq ft Halo, pictured, will be built on the former Avon Fire and Rescue HQ site and is part of the latest phase of the Finzels Reach new city quarter being developed by Cubex.
Bristol Business News revealed in December that Osborne Clarke was mulling the move, which has been prompted by the expiry of the lease in September 2022 of its 80,000 sq ft building at Temple, which it has occupied since 2002.
The firm is taking the top five floors at Halo, including a private roof terrace. The deal represents one of the most significant pre-lets in Bristol over the past year – although it is dwarfed by BT's pre-let of 201,000 sq ft of premium office space as the sole tenant in an 11-storey tower on the Assembly Bristol mixed-use scheme on nearby Temple Way.
Osborne Clarke has signed a 12-year lease on its space at Halo at £35.50 per sq ft for four floors and £36.50 per sq ft for the top floor with roof terrace. Before choosing Halo, Osborne Clarke carried out an extensive employee consultation to ensure any new office would meet the needs of its people.
Its decision comes at a critical point for Bristol's city centre office market. With just 100,000 sq ft developed speculatively over the past five years, the city has suffered a severe shortage of prime space for firms looking to relocate. However, with a number of schemes now coming on stream or in the pipeline, around 700,000 sq ft could be released over the next three years.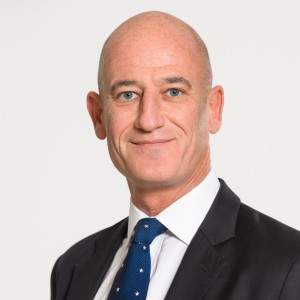 Halo is set to be one of the greenest office buildings in the UK, targeting a BREEAM Outstanding accreditation to meet the toughest new sustainability assessment criteria. It will take a similar design approach to Aurora across the road at Finzels Reach, which was also recognised for its stand-out environmental and digital credentials.
Osborne Clarke said the new building would reflect its values as a firm and will have a greater focus on employee wellbeing, with key features including the outdoor space on the rooftop, a bike park, and a glazed façade to maximise views and allow daylight to fill the space.
Osborne Clarke also said being in one of Bristol's most innovative office buildings would help cement its reputation as a leading technology law firm.
Osborne Clarke UK managing partner Ray Berg, pictured, said: "We're incredibly excited to have Halo as our new Bristol home. Its standout design and sustainability credentials are a perfect fit for us as we look to invest in a new building that will take us into the future and create an exciting working space for our people and clients.
"Bristol is widely thought of as the UK's second centre for law and maintaining a strong base in the city will be vital to our business strategy and ongoing success. In the time we've been on Temple Quay, the firm has grown considerably; we're now a €300 million business. We've opened many new offices internationally but remain firmly committed to the UK and Bristol."
Peter Walford, Director at Cubex, said: "We are thrilled that Osborne Clarke is on board at Halo so far in advance of the completion of this cutting-edge new office building for Bristol. It's hugely satisfying to see the success of Finzels Reach to date and we are proud that Halo will set new benchmarks for sustainability, wellbeing and digital connectivity.
"It's very exciting to see work on phase two of Finzels Reach forging ahead, with this new deal an important catalyst for the regeneration of this brownfield site in Bristol's medieval heart. We are in talks with other potential occupiers of Halo and expect to make new announcements soon."
While Osborne Clarke is an international firm with 24 offices across the globe employing more than 1,000 people its roots are in Bristol, where it was founded in 1748.
Last September marked 50 years since two law firms in Bristol – Osborne Ward and Clarke Gwynn & Press – merged and created the firm named Osborne Clarke.
Knight Frank and Lambert Smith Hampton are the lettings agents on Halo. Morton Property Consultants advised Osborne Clarke on the deal.