Bristol businesses interested in getting involved in the city's Unicornfest 2023 sculpture trail can find out more at an event later this month.
More than half the 50 unicorns that will be sited around the city next year have already been sponsored.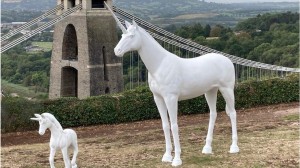 The initiative follows the highly successful Wow! Gorillas of 2011 and the two Gromit Unleashed trails of 2013 and 2018 and will coincide with the 650th anniversary of Bristol becoming a city and county while also raising funds for Leukaemia Care.
Unicorns have been a symbol of Bristol since the 17th century and can be seen on top of City Hall and other locations around the city.
Confirmed unicorn sponsors so far include AirHop Bristol, BNS Property Management, Bailey of Bristol, Broadmead BID, Cakesmiths, City Centre BID, CJ Hole, Downend & Bromley Heath Parish Council, Gilead, Goodman & Lilley, Gloucestershire Cricket, Go Panda, The Grand Pier Weston-super-Mare, Huboo, IKEA, LDC, Moneyhub, Puxton Park, Redcliffe & Temple BID, Rocketmakers, Severnside Community Rail Partnership, Sweet Projects, The Galleries, UWE, West Country Water Park and Yuup.
Unicorn sponsors will have the opportunity to choose their favourite artist from a portfolio of unicorn artists, which include Bristol artists Inkie and Jenny Urquhart.
There will be a Unicornfest 2023 sponsor and artist match-making event on Valentine's Day 2023!
After the Unicornfest media launch in June, the magnificent mythical beasts will trot out to their display locations across Bristol and the surrounding area, including the Grand Pier at Weston-super-Mare, from 1 July to 3 September.
There will be trail maps, sponsor events, extensive media coverage and an augmented reality unicorn app created by Bath-based software development company Rocketmakers.
After entertaining hundreds of thousands of residents and visitors to the city over the summer the handsome herd will then be auctioned in October to raise funds for Leukaemia Care.
The unicorn team would be delighted to welcome any business interested in sponsoring a unicorn to come to its 'Meet the Unicorns' event at the Clayton Hotel on Monday 21 November for a chance to meet a unicorn and foal, find out more about the event and paint their own mini-unicorn!
Click here for an invitation to the event.