National accountancy firm Haines Watts' Bristol office has widened its offering to clients to include business coaching, HR and legal services by teaming up with specialist providers across the South West.
Operating under the one banner of Haines Watts Employer Services, the partnership aims to support local smaller businesses going through times of growth and change.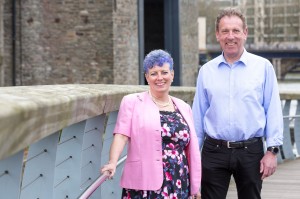 The one-stop business services hub concept is being rolled out by Haines Watts' offices across the South West.
Alongside payroll and benefits advice, legal advice and HR support, Haines Watts Employer Services will also offer employee share scheme design and implementation, coaching and masterclasses in executive leadership and management along with comprehensive employee engagement research and surveys.
Haines Watts Bristol managing director Matthew Bracher said the changing business landscape, with an economy hit by Covid and with the challenges of Brexit, offered many smaller businesses a great opportunity to pivot and grow.
"I believe there is great potential for this holistic service. Any business looking to expand or diversify will need initial and ongoing legal advice, as well as support around the people in the business.
"Clearly both of these functions also bring financial implications into consideration. So, we've recognised the appeal of offering all these services to growing SMEs under one umbrella for a while and it's great to be able launch this new service.
"We've been considering this as an option at Haines Watts for some time, as when planning for growth in business there is often crossover in these key areas of accountancy, HR and legal support.
"All of our carefully-chosen partners match our standards of quality and customer service and we are pleased to be working with them."
Among these is Gloucestershire-based business coaching firm Executive Edge. Its owner/director Bev Couzens said: "Collaboration and umbrella working are becoming increasing popular in the business services sector and Executive Edge is a good fit with the vision that Haines Watts Employer Services is aiming to achieve.
"Business coaching is highly relevant as our economy pivots and we adapt and innovate to keep up with the challenges posed by the Covid crisis.
"This new relationship is a great example of how we are looking to broaden the services we offer our clients, who increasingly look to one supplier for a range of business functions."
Haines Watts is the UK's 15th largest accountancy firm with 50 offices across the country. Its Bristol office forms a key hub in its South West region, which has seven other offices stretching from Swindon to Launceston.
Pictured: Bev Couzens of Executive Edge with Matthew Bracher of Haines Watts Bristol