Armadillo, Bristol's largest independent customer relationship marketing (CRM) agency, has relocated to a new office to take account of its hybrid working model.
The agency, which works with major global brands such as McDonald's, Disney and Carnival UK, has spent the past two years carefully researching, consulting, and planning the new base in the flagship Distillery office development on Avon Street.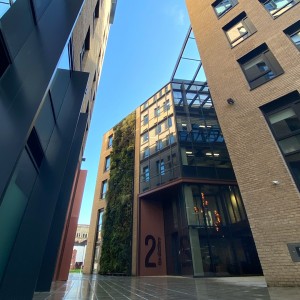 As a result, Armadillo – which employs nearly 80 people and was previously based in nearby Temple Back – has created a space designed to suit different ways of working and with the flexibility to meet its key drivers of collaboration, culture, and care.
Walls have been kept to a minimum to allow the use of the space to evolve over time as the new approach is tested, with more collaborative project spaces than the previous office. Along with different seating types and configurations.
It also incorporates and a wellbeing/prayer room, an open-plan kitchen that converts easily into a social and event space with a pool table, and a 'library wing' – a dedicated quiet area for head-down work with no interruptions.
To encourage teams back to the office, complimentary lunch is provided three days a week and social activities are planned to bring the team together and continue to foster creative collaboration.
Armadillo CEO James Ray said: "Our aim with this new space is to provide the best of both worlds, where people always have the best environment for the best work when in the office on some days and at home on others.
"We started with a blank sheet of paper and, following extensive research within the team, industry and beyond, have designed a space that will work for the needs of the business now and in future."
Armadillo's leadership team worked with employees to develop the new space with one-to-one interviews with every employee, as well as external research among the agency's peers.
Sustainability plays a key part in the design of building – one of two making up the 92,000 sq ft Distillery office scheme – with features including rooftop mounted solar panels, intelligent LED lighting, water-saving technology and an important emphasis on creating a healthy environment.
The scheme, whose other occupiers include insurance group Canada Life and scientific publisher IOP, has achieved a BREEAM Excellent accreditation, an EPC Grade A rating and a Platinum and Gold Certified Wire Score, each globally recognised symbols of sustainable achievement.
Armadillo executive creative director Hannah Waters added: "We chose the striking building for its bold, elegant features.
"We've balanced the beautiful internal concrete feature walls with our range of cool greys and warm vibrant oranges to ensure that, even on the rainiest day or after a challenging commute, our employees can be met with a positive palette and welcoming furniture."
Multi DMA award-winning Armadillo, which has doubled its revenue and headcount in the past three years, combines expertise in data, insight, technology and strategy with creativity, personality and craft to drive changes in customer behaviour that deliver fantastic results for global brands.