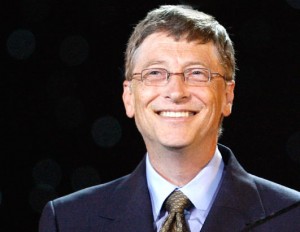 Microsoft's Bill and Melinda Gates have bought into Bristol-based research that uses urine as a potential fuel for Microbial Fuel Cells (MFCs) to produce electricity – otherwise known as Urine-tricity.
Dr Ioannis Ieropoulos, Professor John Greenman and Professor Chris Melhuish of Bristol Robotics Lab have published a scientific paper outlining the research which is to receive funding through Grand Challenges Explorations – the initiative created by the Bill & Melinda Gates Foundation enabling researchers worldwide to test unorthodox ideas that address persistent health and development challenges.
Chris Wilson, director of Global Health Discovery for the Bill & Melinda Gates Foundation, said: "We believe in the power of innovation – that a single bold idea can pioneer solutions to our greatest health and development challenges.
"Grand Challenges Explorations seeks to identify and fund these new ideas wherever they come from, allowing scientists, innovators and entrepreneurs to pursue the kinds of creative ideas and novel approaches that could help to accelerate the end of polio, cure HIV infection or improve sanitation."
The ground-breaking urine-tricity project, which is also backed by the Swindon-based Engineering and Physical Sciences Research Council (EPSRC), has been evolving for some time – Dr Ieropoulos has worked with MFC technology for 10 years, using it to generate power for autonomous robots.
The process doesn't require energy to run; it is totally sustainable after the initial fabrication costs involved in producing the system. If successful, it has the potential to achieve energy recovery from urine and other waste-streams, and produce a cleaner effluent, which is dischargeable into the environment without expensive waste water treatments in developing world countries.
Dr Ieropoulos said: "Urine is chemically rich in substances favourable to the MFCs. At the moment the output from one MFC is small. Through this study and the related work carried out by our group over the years, we were able to show that by miniaturisation and multiplication of the number of MFCs into a stack and regulating the flow of urine, it may be possible to look at scales of use that have the potential to produce useful levels of power, for example in a domestic or small village setting."
He added: "Whil we recognise the need for a great deal more research in this area, we are very excited by the potential of this work. The impact could be huge since it enables us to think of 'waste' in a new way, and offers great potential for the future."
Bristol Robotics Laboratory – a partnership between UWE and the University of Bristol – is the largest multi-disciplinary robotics facility in the UK with an international reputation in advanced robotics research.