Global real estate advisor CBRE has strengthened its Bristol team with the appointment of a new apprentice and three graduates as it continues its efforts to support the next generation of property professionals.
CBRE's schemes for apprentices and graduates form part of its Next Generation programme and the latest arrivals join a cohort of eight surveying apprentices and graduates at CBRE in Bristol.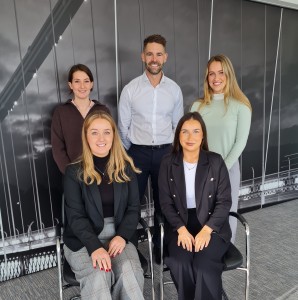 Across the UK there are now 236 people taking part in the programme – 110 new starters.
The new Bristol joiners are apprentice Grace Pandya and graduates Roberta Lack, Amelia McClune and Hannah Sykes.
Grace recently completed her A-Levels and has now started her new role in the office's lease advisory team.
She will follow a four-year programme that combines formal training through the University College of Estate Management with on-the-job learning and will have the opportunity to work with a number of different teams before becoming a fully qualified Chartered Surveyor.
Roberta joins after completing a degree in Politics and International Relations at the University of Nottingham, while Amelia has a degree in English Literature from Cardiff University.
Both are taking a masters conversion course as part of their training to be Chartered within the property field under the Commercial Pathway.
Having already completed a degree in Building Surveying at Birmingham City University, Hannah Sykes joins the two-year graduate programme on the Building Consultancy Pathway.
CBRE Bristol next generation lead Nikita Dheir said: "Not only is it highly rewarding to support our apprentices and new graduates as they start their careers, but having the input of a younger generation injects a fresh energy into our team and it's something we're really benefitting from as we continue to grow.
"To have new starters from such diverse backgrounds in terms of their previous education and work experience will bring a new way of thinking that can only help our business."
CBRE South West managing director Tom Morris added: "We started our apprentice scheme for the first time last year and haven't looked back.
"We're consistently impressed by the sheer amount of knowledge and skills our new apprentices and graduates are able to pick up and we all benefit from having them on our team."
CBRE employs more than 75,000 in around 450 offices worldwide, including eight in the UK. It offers a broad range of integrated services spanning facilities, transaction and project management to property management and sales.
Pictured: Back row, from left: Hannah Sykes, Tom Morris and Roberta Lack. Front row: Amelia McClune and Grace Pandya