The achievements of business figures from Bristol along with those from the city's not-for-profit and cultural sectors have been recognised in the 2023 New Year's Honours list.
Louise Mitchell, pictured, chief executive of iconic live entertainment venue Bristol Beacon, has been named a Commander of the Order of the British Empire (CBE) in recognition of her services to the arts in the city.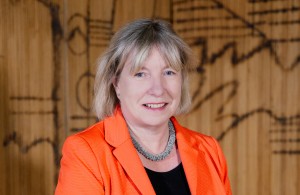 MBEs have gone to the former chair of the University of Bristol's Board of Trustees, businessman and philanthropist Denis Burn for services to charity and to the community in Bristol, and Tony Dent, former automotive director at Bristol Port Company, for services to the automotive sector.
Also receiving MBEs are Sandy Hore-Ruthven, BBC Children in Need South West committee chair and former CEO of Bristol's Creative Youth Network, for services to young people in Bristol, and writer, academic and curator Edson Burton for services to the arts and the community in Bristol.
Louise Mitchell's career spans more than four decades, during which time she has become recognised as a tenacious ambassador for the arts nationally and internationally. She has dedicated her career to opening up the world of music, in particular classical music, to wide and diverse new audiences.
As chief executive of the independent music charity Bristol Music Trust, which runs Bristol Beacon, Louise has been instrumental in steering the ongoing £107m transformation of Bristol Beacon, one of the biggest arts regeneration projects in the UK, and led on the venue's significant name change away from that of slave trader Edward Colston.
Before moving to Bristol, Louise worked in Scotland, including as director of Glasgow's Concert Halls for 13 years, where she spearheaded the regeneration of two of the city's most revered venues, the City Halls and The Old Fruitmarket, saving them from closure.
Bristol Beacon chair of the Board of Trustees, Simon Chapman, said: "We are delighted to have Louise leading Bristol Beacon and its mission to put music at the heart of Bristol life.
"She has built and led a team that has transformed the music offer in Bristol, reaching new and diverse audiences; created an award-winning music hub providing music education to over 30,000 young people and led the development of new and exciting community projects.
"In addition, Louise's drive, vision and entrepreneurial spirit have inspired the once-in-a-generation project to transform the main music spaces of Bristol Beacon into a fully accessible, world-class venue, which will attract audiences and artists for the next 150 years.
"It has been an absolute pleasure to work with her over the past 11 years and to share her passion for the unity and joy that music can deliver for everyone and anyone. I am thrilled that her work has been recognised in this way – it is much deserved." 
Denis Burn completed a degree in Mechanical Engineering at the University of Bristol in the 1970s and worked as an engineer before switching to accountancy. In 1988 he co-founded his own management consultancy business Gimlet and became an early internet entrepreneur, designing web platforms to allow employers and employees to contact each other directly – and, as a result, reducing costs.
Gimlet's early successes included the creation of eTeach, which remains the premier platform for recruiting staff in schools across England. Since leaving Gimlet, Denis has pursued a portfolio career, combining consultancy work with the creation and leadership of a wide range of charitable endeavours. 
Tony Dent spent more than 40 years working for The Bristol Port Company, originally in forest products and containers before moving to oversee its rapidly expanding car operations.
As the automotive side of the company's operations became more important – both imports and exports – he was promoted from car trade manager to the specially created role of director – automotive trade.