Bristol medical devices firm FluoretiQ has launched a new initiative in the fight against AMR (antimicrobial resistance) infections, which are estimated to cause 700,000 deaths a year globally.
According to research, that figure could rise to 10m – alongside a cumulative cost of $1trillion – by 2050 if no action is taken. That would make it a hundred times greater than the global economic cost of Covid-19.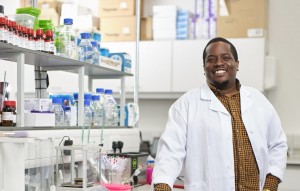 FluoretiQ has struck an exclusive licence agreement with the University of Bristol giving it the rights to develop and commercialise technology invented at the university that can be used in the battle against AMR infections.
Called Sub Cellular Fluctuation Imaging (SCFI), the technique is based on total internal reflectance microscopy, enabling real time capture of metabolic activity within bacterial cells.
By securing the rights to SCFI, FluoretiQ, which spun out from the university, will be able to build a family of products that is complimentary to its existing bacterial infection diagnosis product line.
FluoretiQ has already produced NANOPLEX, a rapid 15-minute ID and enumeration to accurately determine the presence of infection.
These two technologies are aimed at revolutionising the way clinicians can manage infections by promoting evidence-based and effective antibiotic treatments.
FluoretiQ CEO Dr Neciah Dorh, pictured, said "Over 250m times a year, we ask our doctors to treat us for infections without knowing what the causative agent is nor which antibiotic will be the most effective.
"The result is that CDC data shows that up to one in two antibiotics are misused. With each misuse, antibiotics become less effective.
"We are still heavily reliant on lab-based bacterial culture methods that were invented over 70 years ago, taking up to 48 hours to provide results.
"Newer molecular methods have improved turnaround times but they can be costly and as a technique, can also be limited in their ability to directly assesses whether an antibiotic will actually work.
"What's needed is a suite of diagnostic tools available to rapidly identify infection and prescribe the correct antibiotic within minutes, not days. That's our mission at FluoretiQ."
SCFI – a fast, phenotypic technique and will provide high-quality information that is actionable at the patient bedside – was invented at the University of Bristol in 2017.
Since then it has been successfully tested by leading academics from its Faculties of Science, Engineering, Life and Health Sciences with both bactericidal and bacteriostatic antibiotics.
University of Bristol head of research commercialisation and investment Rosalind Darby said: "We have been working with FluoretiQ since its inception in 2017.
"It has developed a revolutionary technology platform NANOPLEX which supports its first product line aimed at diagnosing infections in fifteen minutes flat.
"Now we are pleased to be able to support FluoretiQ further with this licensing agreement and are proud to be supporting them in their AMR mission."
Dr Dorh added: "We are passionate about bringing products to market that support the fight against AMR, enable antibiotic stewardship, and sustainable prescribing of antibiotics.
"We will develop SCFI as a sister technology platform to NANOPLEX to support our AST product line. "We want to build products that ensure that clinicians have the right evidence before prescribing and in so doing, extend the useful lifetime of new and existing antibiotics."