Limbs & Things, the Bristol-based medical simulator manufacturer, will be able to offer a wider range of products, such as mannikins for CPR training, to healthcare training organisations after signing a multi-million pound contract with a Northern Irish business.
The deal with TruCorp makes Limbs & Things the exclusive supplier of its products in the UK, the US, Canada, and Australia.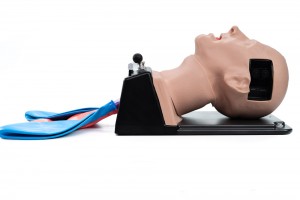 Limbs & Things makes a wide range of pioneering medical task trainers at its St Philips factory, including lifelike birthing models that imitate labour and delivery and 'arms' with mock blood systems, while TruCorp is best known for its mannikins for training on airway management, trauma, ultrasound and paediatric procedural skills.
Its AirSim range is regarded as the go-to emergency airway management trainer and includes anatomically correct simulated human torsos for training in procedures such as tracheostomies, pictured.
The new agreement builds on a pre-existing, decade-long successful partnership between the two companies and will give County Armagh-based TruCorp the opportunity to expand existing markets by leveraging Limbs & Things' well-established market presence.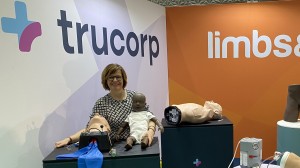 The two firms have 50 years' combined experience in the medical simulator market, improving patient outcomes by making durable, realistic patient simulators designed for the education and training of healthcare professionals.
Limbs & Things commercial director Anne Allin, pictured, said: "We are delighted to have signed this significant deal with TruCorp, which builds on our already strong relationship.
"Our products and expertise, while slightly different, truly complement each other in the field of medical simulation training.
"This contract means we can introduce a wider range of teaching products into curriculums in our existing and new marketplaces, ultimately improving patient outcomes."
TruCorp co-owner and sales and marketing director Michael Calo added: "We have enjoyed a very successful relationship with Limbs & Things over the past decade, so this seemed like the next logical extension of our commercial partnership.
"We look forward to many more years of working together, extending our product range into new markets hand in hand with Limbs & Things to improve medical educational efficiency."
Queen's Award-winning Limbs & Things was launched in 1990 by medical illustrator Margot Cooper to meet a need for new ways of gaining clinical skills by medical professions.
Today it employs around 200 people, has offices in the US, Australia and Europe as well as the UK and exports its products to more than 40 countries worldwide. Its products are used by specialists around the globe to address medical scenarios from routine examinations to emergency interventions.
Among them is its market-leading PROMPT Flex range of birthing simulators, which contribute daily to improving outcomes across the world for both mothers and babies.