Upmarket wedding and corporate events venue Clevedon Hall has appointed James Matthews as its new managing director.
James, pictured, took over in April after two years as operations director at Clevedon Hall, which stages bespoke events and weddings on an exclusive basis for up to 250 guests, with luxury accommodation for 50.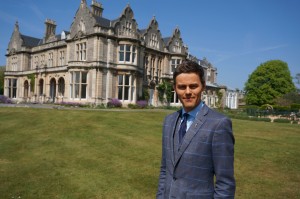 Working with sales and marketing director John McCarthy, James will now drive the strategic growth of the business as well as overseeing the day-to-day running of the company.
James arrived at Clevedon Hall from DoubleTree by Hilton's Cadbury House Hotel, Congresbury, in 2015 as operations manager but was quickly promoted to the board.  
Since joining the Clevedon Hall team he has helped drive business growth with bookings up by 39% year-on-year and revenues increasing by 64% over the period.
He has achieved this while also winning a scholarship to attend the acclaimed Cranfield School of Management, where he completed the course to become a Saint Julians Scholar.
James said: "Clevedon Hall is a truly unique events venue with a highly talented team and great potential to grow."
James has nearly 20 years' experience in the hotel and hospitality industry after starting out as a house porter at the Marriott Royal Hotel in Bristol in 1998 and working his way up through the ranks.
He took on his first departmental management role at the age of just 21, overseeing £1.6m in revenue.
He became a director of event operations for Marriott International in 2006, based in Liverpool but travelling to advise on and run events all over the country. He then worked in roles at Tortworth Court Hotel in Gloucestershire and with leading independent hospitality provider BaxterStorey at One Glass Wharf in Bristol.
After a brief stint working as a hospitality project manager for the University of Bath in 2012, James returned to the hotel industry as operations manager for DoubleTree by Hilton's Cadbury House for nearly three years.
Wanting a change from the corporate hotel business, he moved to family-owned Clevedon Hall.
"I saw an opportunity to develop and grow a raw product into something really special with an exceptionally talented team at its core," said James.
"Working with large-scale luxury hotel chains is a great experience but there's less scope to develop ideas and cultures in a way that is authentic when reflecting on yourself, your team and the location.
"Here we are creating something extraordinary through focused passion, objectivity, differentiation and an understanding of who we are, which I can stand in front of and feel legitimately proud in all respects.
"We'll continue to develop and strategically enhance Clevedon Hall as a venue, creating a successful business but also an environment that fosters talent in the hospitality industry, creating a platform that will launch and foster rewarding careers for promising individuals."
James is also a member of the newly formed Bristol Hoteliers Association and a member of the Institute of Hospitality.
Clevedon Hall, which opened in 2010, stands in several acres of beautiful gardens overlooking Clevedon Bay.