One of the UK's most advanced supercomputers – capable of performing up to 600 trillion calculations a second – has opened at the University of Bristol, significantly boosting its already world-class research and teaching capability.
The multi-million pound system, called Blue Crystal 4 (BC4), is three times faster than its predecessor and will allow researchers to process vast amounts of complex data at record speeds.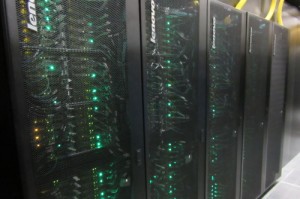 In some cases research has been reduced from weeks to just a few hours – vital in its use in areas such as combatting the spread of killer viruses such as Zika in developing nations.
It also underlines Bristol's position as one of the world's leading centres for High Performance Computing (HPC). 
More than 1,000 researchers and PhD students in areas as diverse as aerospace engineering, physics, molecular modelling, biochemistry and life sciences will benefit from the new system.
Supercomputers are regarded as the 'third pillar' of modern research due to their important role in speeding up calculations and analysis which would previously have taken many years to complete.
The University of Bristol has invested £16m in HPC and research data storage in the past 10 years. Uses for Blue Crystal have evolved to include teaching, with students on six courses learning how to use HPC for research projects and real-life applications.
Pro Vice-Chancellor for Research, Prof Nishan Canagarajah, said: "This new supercomputer reinforces Bristol's position as one of the leading centres for HPC in the world. 
"Over the past 10 years, its role in world-leading, often life-saving research, has become even more evident and we're committed to staying ahead of the game.
"In addition to research, we take pride in offering taught courses on HPC for our students which prepare them for their future in this important field."
Designed, integrated and configured by the HPC, storage and data analytics integrator OCF, BC4 has more than 15,000 cores making it the largest UK university system by core count and a theoretical peak performance of 600 Teraflops.
EPSRC research software engineer fellow at the university, Dr Christopher Woods, said: "We have researchers looking at whole-planet modelling with the aim of trying to understand the earth's climate, climate change and how that's going to evolve, as well as others looking at rotary blade design for helicopters, the mutation of genes, the spread of disease and where diseases come from.
"Early benchmarking is showing that the new system is three times faster than our previous cluster – research that used to take a month now takes a week, and what took a week now only takes a few hours. That's a massive improvement that'll be a great benefit to research at the university."
The Blue Crystal supercomputer facility played a pivotal part in a €1.8m study into Ebola, looking at the speed of virus evolution, and the corresponding effect on vaccines, diagnostics and treatment.
Senior Lecturer in Virology at the university, Dr David Matthews, who led the Bristol component of the study, said: "The capabilities of Blue Crystal were invaluable to our research. We used it to analyse raw data on the Ebola virus in 179 patient blood samples to determine the precise genetic make-up of the virus in each case.
"This allowed the team to examine how the virus evolved over the previous year, informing public health policy in key areas such as diagnostic testing, vaccine deployment and experimental treatment options."
This complex data analysis process took around 560 days of supercomputer processing time, generating nine thousand billion letters of genetic data before reaching the virus's 18,000 letters long genetic sequence for all 179 blood samples.
Dr Matthews will use BC4 to help with his latest research into Dengue fever and Zika virus.
Caroline Gardiner, Academic Research Facilitator at the University of Bristol, said: "We're now in our 10th year of using HPC in our facility. We've endeavoured to make each phase of Blue Crystal bigger and better than the last, embracing new technology for the benefit of our users and researchers."