Three fee earners, including a new head of regulatory and licensing, have joined Bristol-based law firm Gregg Latchams.
Melissa Toney now leads the firm's regulatory and licensing team while solicitors Holly Snook and Sammy Macdermid have joined the dispute resolution and commercial property departments respectively.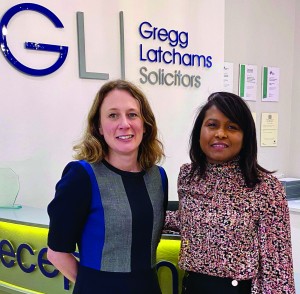 In her new role, Melissa is providing c individuals and businesses across the South West with advanced legal services and compliance-based advice.
Prior to joining Gregg Latchams, spent eight months with Bristol City Council as a regulatory lawyer and, before that, was a solicitor advocate at Easton-based Elite Solicitors for 13 years, where she honed her skills and provided professional and personal legal services.
At Elite she worked in the private housing licensing and enforcement team and was responsible for advising on all aspects of prosecutions.
She also joined the National Trading Standards Estate and Letting Agents Team (NTSELAT) as a secondary solicitor and played an intricate role in drafting its enforcement policy and enforcer's toolkit as well as provided training to local authorities across England.
In 2018 Melissa was named among Bristol's top 100 most influential Black, Asian and Minority Ethnic (BAME) people.
At Gregg Latchams she replaces Ewen Macgregor, who left to join Bristol-headquartered national law firm TLT's licensing team last November.
Melissa said: "I am thrilled to be taking on this new challenge and work with the already fantastic team. I can't wait to help build on our strategy for 2020, get to know our clients and help the department develop and nurture talent of the future."
Gregg Latchams head of corporate and commercial Paul Hardman said: "All our new joiners have one thing in common: they have all arrived at Gregg Latchams from a diverse range of backgrounds and qualifications.
"I am delighted that they have decided to join the Gregg Latchams family and look forward to seeing how they will apply their unique experiences and expertise to the breadth of work that the firm offers its clients".
Pictured above: New arrivals Holly Snook, left, and Melissa Toney