A new general manager has been appointed to one of the region's leading four-star hotels.
Gareth Ireland, pictured, has joined DoubleTree by Hilton, Cadbury House, in Congresbury, taking on the day-to-day running of the hotel, house and Marco Pierre White Steakhouse Bar & Grill.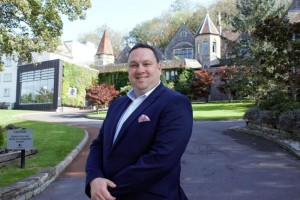 Gareth previously spent just over eight years as general manager of the 36-room Aztec Hotel & Spa in Almondsbury. In total, he has more than 20 years' experience in the hospitality sector.
He said he was now looking forward to consolidating his new venue's position, with ambitions to make it one of the best in the UK. The hotel has 132 bedrooms while its spa boasts more than 80 treatments along with a salon, sauna, and indoor pool.
It was acquired by hotel industry entrepreneur Nick Taplin in 2003, who has since ploughed £28m into it.
For the past 10 years it has been owned by Black & White Hospitality, the group he co-founded with award-winning chef Marco Pierre White.
Gareth Ireland said: "Cadbury House has a great reputation across the hospitality and hotel sector,
"It's a phenomenal venue and is a very well-balanced business when you combine the different elements such as the hotel, meeting and conference facilities, restaurant, wedding offering and health club. It's a great recipe for success.
"Being affiliated with the Hilton brand makes its proposition incredibly strong and is one I'll be looking to build on over the coming months."
He said Cadbury House was regarded as being one of the world's best four-star brands and often influenced people's decisions on where they want to stay.
"Also, being independently owned, allows the venue the autonomy to react to market conditions much quicker than other operators and it's that culture I'm looking forward to being a part of," he added.
"My aims are to build on the strength of the team, improve service excellence and implement a natural form of hospitality where we have a guest first focus.
"The opportunity to work with Nick was also too good an opportunity to miss. His vision and energy is second-to-none and I hope to help channel Nick's passion to make Cadbury House the venue of choice for both business and leisure travellers from all across the UK."