Two innovative Bristol firms that help young entrepreneurs, students and business owners have teamed up to stage a high-profile networking event.
Held as part of international networking week, the event next Tuesday will also act as the official launch for one of the businesses.
Missionly is the creation of Chris Dalley and Will Duddell, this year's UWE Entrepreneurs of the Year award winners. It connects students and young people with small business owners who can harness their skills in return for valuable work experience.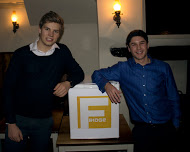 Partnering with Missionly in next Tuesday's event is Fridge Networking, which runs networking events for young entrepreneurs and innovators.
Fridge Networking founder Henry Reith, pictured (right) with Missionly founder Will Duddell, said: "We are very excited to be hosting such a special event as part of international networking week.
"We are proud to be involved in Missionly's launch celebrations as the company has so many advantages for all the small business owners who attend our regular monthly events."
More than 200 guests are expected to attend the event, including entrepreneurs from a range of sectors, investors and academics.
The event at SAE Space http://saespace.com/sae-where/ – the former Bridewell police station in Nelson Street – will also include competitions and a special wine-tasting session hosted by Averys of Bristol.
"The event will be one of the best opportunities so far this year to do some great business networking," added Henry.
For more information and to register visit the Fridge Networking http://www.fridgenetworking.co.uk/ http://www.fridgenetworking.co.uk/events/bristol-
International networking week 2014, which starts on Monday, celebrates the role that networking plays in the development of businesses around the world.
It will have a special focus on relationship networking – the approach of building long-term successful relationships with people via the process of networking.