Bristol science and tech hub Future Space has appointed Laura Crocken Stevens as its new centre director.
Laura, pictured, takes up the post after eight months as innovation director the innovation centre on UWE's Frenchay Campus, which is home to 50 science and technology businesses.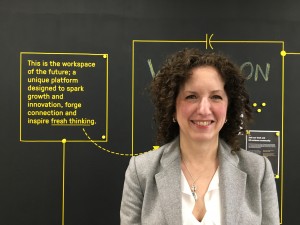 She replaces Marty Reid, who left just before Christmas to head Bristol's Engine Shed innovation hub.
Originally from the US, Laura has 30 years' experience as an international start-up specialist, commercial director, and SME strategy/marketing consultant.
She has an MA from Stanford University and her wide-ranging commercial experience includes roles at global satellite services provider COMSAT and global government services provider DynCorp International. She was also a trade negotiator for the US government.
She joined Future Space from Malmesbury-based specialist international broadcast rights agency HBA, where she was commercial director for six years.
The innovation centre, which is managed by Oxford Innovation on behalf of UWE, has contributed more than £9m to the regional economy since opening in 2016.
Nearly 300 people now work in high-value science and technology jobs at the centre in businesses representing a range of sectors from robotics and biosciences to artificial intelligence and microelectronics.
Under Laura's direction the hub is now poised to extend its team to drive growth and ever-increasing collaboration between Future Space businesses, university researchers, students and recent graduates.
Laura said: "I'm very excited to be taking on this role at such a pivotal time in the evolution of Future Space. It's great to be spearheading a forward-thinking and dynamic organisation which is home to so much ground-breaking development and innovation.
"My new role will be focused on getting Future Space to its next growth stage alongside offering cutting edge commercial support to customers. I will be showcasing the important work done here in building new partnerships which support the ambitions of our customers in driving innovation and technological development across a range of industry sectors."
Future Space is co-located in UWE's University Enterprise Zone with the Bristol Robotics Laboratory and Health Technology Hub.