Accountancy firm Grant Thornton has appointed Adina Watt as business development manager for the South West.
Adina, pictured, moves to the region from the North West where she was the firm's business development manager in its Manchester and Liverpool offices.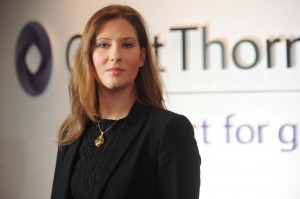 Prior to joining Grant Thornton she held the same position at one of Manchester's leading professional services agencies, MC2.
A graduate in politics from the University of York and in business studies from Leeds Metropolitan University, Adina has also held senior roles in the third sector.
Her appointment follows this summer's recruitment by Grant Thornton in the South West of new practice leader Tim Lincoln. It forms part of a period of investment in the firm's Bristol office and in the wider region, where it employs more than 200 people.
Grant Thornton recently recorded its fifth successive year of strong results in the UK. Revenue rose 9% to £512m for the financial year to June 30, hitting the firm's Ambition 2015 turnover target a year early.
Tim Lincoln said: "My absolute focus is on extending Grant Thornton's reach into the South West market place.
"We are investing in our team to drive our ambitious growth plans. That means bringing in new people, as well as developing our existing staff, and Adina's appointment forms a crucial part of this.
"She already possesses a strong track record in driving new business acquisition and client retention programmes for Grant Thornton in the North West and will bring renewed focus to our business development activity here in the South West."