Two of the senior leadership team at Bristol-based independent brand consultancy Mr B & Friends have been promoted and appointed to its board as it forges ahead with its expansion plans, including an office in London and potential opening a US base.
Kate Gorringe has become executive creative director, with strategy director Adam Partridge stepping up to become executive strategy director.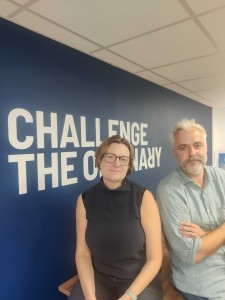 They will now sit on the agency's board alongside CEO Simon Barbato, chairman Peter Gandolfi and managing partner Ellie Wilson.
Mr B & Friends, which was launched in Bath 17 years ago by Simon Barbato before moving to Bristol, provides brand strategy, identity, communications, internal communications and creative services across some high-growth vertical markets to consumer and B2B brands.
Its clients include Bristol-based utility group OVO, soft drinks producer Britvic, professional services firm Marsh and BMT, the specialist engineering business.
Earlier this year it acquired FutureKings, the brand strategy agency with offices in Bristol and London which has worked with clients such as SS Great Britain, English Heritage, St Pauls Carnival and Bristol media hub Watershed.
Kate has been with Mr B & Friends for almost a decade and in her role as creative director has led large-scale projects for Principality Building Society, Persimmon and Canada Life among others.
She leads a 13-strong team of creatives, inspiring them to deliver "truly extraordinary" work to clients across a range of sectors.
Adam has led the agency strategy and planning department for the past seven years, counting Bristol Bears rugby club, Bristol City FC and engineering consultancy Hoare Lea among his successes.
The agency said his ability to identify and articulate a distinctive brand positioning was highly valued by clients.
His new role has a broader strategic mandate to include the agency brand and marketing operation, product and service innovation and development and overseeing the strategic output of the Bristol HQ and soon-to-be opened London office.
The promotions will also give Simon Barbato more time to concentrate on the agency's expansion plans, including the imminent office opening in London.
Once that is up and running in autumn, he will explore options for a US base, having already scoped out opportunities in the market over the past couple of years.
He described Kate and Adam's appointment to the board as testament to their skill and commitment over the years he had worked with them.
"They're both hugely talented and the best qualified people to drive the vision for Mr B & Friends forward," he said.
"It also provides some much-needed headroom for other ambitious staff within the ranks.
"With such an array of talent on our Board now, I'm excited to be able to forge ahead with expanding our presence in new markets as we look to challenge the ordinary for brands on a global scale."