Using its pioneering video technology to help cut the number of train delays has earned Bristol-based One Big Circle a prestigious rail industry award.
The firm, whose revolutionary AIVR (Automated Intelligent Video Review) on-train technology is being used by Network Rail, topped the 'Innovation of the Year' category at the National Rail Awards.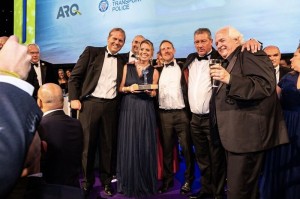 AIVR uses thermal cameras to detect hot spots of over 80 degrees on the conductor – or third – rail.
It is being trialled in the South East, where much of the network is electrified and uses conductor rails.
The award was a joint success between One Big Circle, which is based in Bristol's Engine Shed innovation hub, and Network Rail's Signalling Innovations Group (SIG).
One Big Circle co-founder Emily Kent, pictured receiving the award, said: "We are thoroughly amazed to win such a prestigious award and thrilled our collaboration with SIG has been acknowledged in this way.
"Our partnership to bring AIVR to fruition is a fantastic example of how working closely together can produce the best solution possible through a combination of technical expertise and industry know-how."
"AIVR is revolutionary for the UK rail industry. Thanks to this innovation and collaboration, we are keeping railway employees safer, and ensuring passengers and freight services are kept safely on the move across the network," Emily added.
One Big Circle's AIVR software can automatically detect hot spots on both the conductor rail and connecting electrical cables. When it finds an anomaly it immediately sends the data back to a remote monitoring system where a team of engineers verify it.
Network Rail signalling innovations manager David Shipman said winning the award reflected the great collaboration between the two teams over the past 18 months and throughout all the challenges of the pandemic.
"This award, and the benefits AIVR technology has brought to the railway in terms of both safety and efficiency, shows the value of establishing the right partnership with SMEs such as One Big Circle, to enable us to bring specific expertise into the industry alongside our own domain knowledge, to rapidly create and deliver the solutions needed for the railway both now and into the future."