Each fortnight Creative Business News gives a prominent member of the region's creative sector the chance to reflect on their career, their work and their ambitions by answering 10 questions about themselves.
Name: Remco Merbis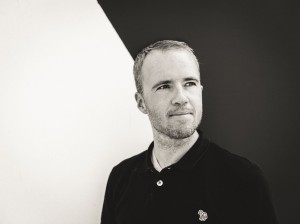 Job title: Visual storyteller
Current company: Pixillion
Age: 45
My big break: I think my big break came when I was based in The Netherlands. The greeting card publisher I worked at as a product developer allowed me to go freelance as a designer on the side and at one point they asked me if I could produce electronic, animated greeting cards for their website. That was in 1999 and e-cards became massive shortly after. I ended up producing at least four every month for a decade. It formed the basis of what became Pixillion.
My first job: As a marketing executive at a small consultancy in Rotterdam. I was into writing and graphic design, but my education was in marketing and advertising, so I ended up getting a supporting role in that. In the end it was more sales than marketing and it helped me figure out what I wanted from working life (not that).
My current role: Pixillion used to be a traditional digital design agency, but over the past two years it has morphed into visual content production. I produce films and photographs for websites, social media and some TV. I'm a self-shooting director now and I feel I've finally found my 'thing', telling stories through a visual medium that really suits me.
My typical day: When I'm shooting, I could be anywhere in the UK or abroad, usually doing long days directing whichever project I've got on. This involves lighting setups, camera work, directing the talent and everything else that comes with it. Pre-production often involves meetings or conference calls, lots of emails and location visits. Once the shoot has wrapped, I'll be in the studio doing the grade, edit and sound mix, delivering for the various channels the job requires.
My proudest moment/project: I shot a short documentary about a traditional wooden boat builder as a passion project a couple of years ago. Somehow it struck a nerve with people and it got a lot of traction. And then it was chosen as a Vimeo Staff Pick. It was a really great moment. Essentially a nod that what I was doing now – after having stopped designing and building websites – was something people were into. It has had 150,000 plays so far.
My best piece of advice: This is a mix of sources, but it's "Follow your passion. If you do what you love, you'll never work a day in your life".
My ambition (that I haven't yet achieved): I'd love to get to a point with my filmmaking and photography where it has become a brand and people seek me out to work with them on ambitious projects.
My favourite creative work/campaign (that I haven't worked on): I absolutely love the Volvo Vintersaga spot by Gustav and Niklas Johansson. It's four minutes of gorgeousness. https://vimeo.com/117191225
My predictions for the creative sector: With more and more ways for people to express themselves creatively and publicly, it will be easier for true creative minds to find what they're meant to do and not being held back by certain moulds they have to fit in at a young age. The flipside of this is that the sector will be more crowded, but hopefully the good ones will still stick out.
My inspiration: I find inspiration in the work of other filmmakers and photographers who I find through social media and platforms such as Vimeo. I've found a preference and developed a style that I'm now trying to get more of a handle on by studying the work of the people I admire.
Twitter: https://twitter.com/remcomerbis
Instagram: https://www.instagram.com/remcomerbis/