Creative Business News regularly gives a prominent member of the region's creative sector the chance to reflect on their career, their work and their ambitions by answering 10 questions about themselves.
Name: Olivia Tripp
Job title: Founder/social media/influencer marketing and event management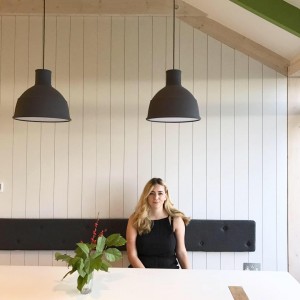 Current company: Weekend:IN (www.wkndin.co.uk)
Age: 22
My big break: Working for luxury lingerie brand Fleur of England. I started off interning with them part-time and ended up as digital executive within the company. Working within a small team gave me the opportunity to manage all aspects of the brand's digital presence and get stuck in from the first moment.
My first job: My first ever job was working in retail, part-time at Zara. During that time I interned at various companies throughout Bristol to gain valuable experience within marketing/social media.
My current role: I currently run Weekend:IN, which helps independent brands connect, engage and grow their audiences through social media management, influencer marketing and event organisation.
My typical day: Every day is different! I usually work from my home-office where I could be creating social media marketing plans, contacting influencers to secure coverage for the lovely brands I am working with, or organising events. I could also be out and about in meetings or at events running the day. I also do A LOT of emailing each day, but don't we all!
My proudest moment/project: The Weekend:IN influencer events. They bring together quality influencers and independent businesses in a unique two-day event. The aim is to promote the brands involved through creative talks and workshops that influencers take part in and create content for their social/blog channels. The hashtag for the very first Weekend:IN event last Christmas reached more than 340,000 accounts and had over 816,000 impressions. Not bad for the first one!
My best piece of advice: Just go for it! I quit my full-time job to become freelance and created the Weekend:IN event shortly after. I could've easily thought about my event for a long time and someone could've beat me to it, but just believing in my idea and going for it worked out perfectly!
My ambition (that I haven't yet achieved): I just want Weekend:IN to keep growing and to work with more amazing brands. I only launched Weekend:IN at the end of 2016 and have already worked with some of my dream clients and organised events that have had amazing feedback. I can only see it growing in the future with plenty of future plans in place already! I also just got accepted onto a six-month business accelerator programme by NatWest called Entrepreneurial Spark, so I think this will help me on my way!
My favourite creative work/campaign (that I haven't worked on): One brand that I think are really killing it with their digital presence is Bando. Everything from their creative direction for photoshoots to their Instagram feed (amazing to look at but full of personality that is great for engagement) is executed brilliantly. I would love to run their social media/work on events for them. Also, their founder Jen Gotch is super cool!
My predictions for the creative sector: I believe consumers will be wanting brands to be more authentic and transparent with their content/marketing. They will want to connect with brands on a personal level and see who/what is behind them. I think there will be a growing number of pop-ups and events and believe this is a key way to get consumers to engage with a brand and its products in such a saturated market.
My inspiration: I find my inspiration on Instagram! There are so many amazing independent businesses and creatives that I love to follow and seek inspiration from.
www.wkndin.co.uk | www.instagram.com/wknd.in