Each fortnight Creative Business News gives a prominent member of the region's creative sector the chance to reflect on their career, their work and their ambitions by answering 10 questions about themselves.
Name: Kate Davis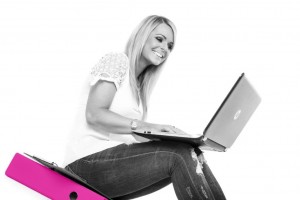 Job title: Branch manager and head of creative
Current company: Juice Recruitment
Age: 32
My big break: I was approached by Juice Recruitment in 2014 to join their permanent team in Bristol – I had been in recruitment for five years at this point and had always loved the brand, the culture and the passion of Juice Recruitment (from afar!). My involvement in the creative division saw me quickly progress my career, leading the division and overseeing the Bristol branch. I'm so excited about our future here in Bristol.
My first job: After university I joined Leigh Court Events as an events co-ordinator, arranging weddings, conferences and corporate away days. It was a lot of fun and never really felt like work!
My current role: I head up the creative division; recruiting creative specialists across the South West market, alongside overseeing the Bristol team.
My typical day: There is never a typical day in recruitment, which is one of the reasons why I love it so much. You leave the office with your next day all mapped out and at the drop of the hat it's all change! I put my success in the industry down to my passion for recruitment and the strong relationships I build with my clients and candidates alike – I spend a lot of my time out meeting clients; understanding the ins and outs of their business and the individuals who make their company a success. I meet every single candidate I am supporting with their job search – I get to know them as individuals, understand what drives them and carefully work together to map out their long-term career plan, ensuring we find them the perfect match. My source and selection process will vary depending on the position I'm recruiting for – If the role is more specialist my time will be spend headhunting the best talent – I have access to the very best job boards, professional networking sites and a superb in-house data base. Matching a candidate to a job is more than ticking boxes on a CV, at Juice we are all about people not paper.
My proudest moment/project: In 2015 I was asked to head up the creative division at Juice – I had always had a huge passion for the industry and was driven to grow our presence in the market. We have seen a huge growth in the last two years
My best piece of advice: Never stop learning – I always push myself to know more, be better and of course, to never give up!
My ambition (that I haven't yet achieved): Leading the permanent team in Bristol, I have big plans for our growth in the market – driving our success of 2016 firmly into 2017, working with lots of vibrant creative companies in the South West.
My predictions for the creative sector: The demand for talent in the creative sector in the South West market is at an all-time high, with a particular growth in the digital market over the past 12 months. We have seen a number of London-based companies migrate to the region, attracted by its recent infrastructure developments, top universities, access to some of the UK's best talent, its expanding creative hub and of course the more relaxed lifestyle environment it offers. It's an excellent time to be living and working in Bristol.
My inspiration: I grew up in a family that ran their own business. Their hard work and commitment to the company was inspirational and this was always my motivation to be successful. I was drawn to recruitment due to the endless opportunities it offers. I run my desk like my own business while being supported by a team of hard-working, passionate individuals.