Shares in luxury goods brand Mulberry fell sharply after it warned its annual profits will be "significantly" lower than expected.
The group, based at Chilcompton, Somerset, and best known for its upmarket handbags, is undergoing a major restructuring after several years of dwindling profits.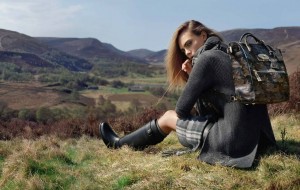 But chairman Godfrey Davis, who has been leading the firm since the departure of chief executive Bruno Guillon in March, yesterday admitted turning around the ailing business had been tougher than expected. Mr Guillon has been blamed for damaging sales in an ill-fated attempt to take the firm upmarket, with many of its trademark bags having a price tag above £1,000.
Part of the restructuring is to launch new products in the £500-£800 bracket.
Mr Davis's comments sparked a 20% drop in Mulberry's share price within the first hour of trading yesterday.
In a trading update for the six months to September 30, Mulberry said sales fell 17% to £64.7m on the same period last year.
The firm added: "The first half was expected to be particularly difficult, with it taking some time for the measures implemented after the April management change to take effect.
"Actual trading conditions have been more difficult than expected, in part due to the continuing headwinds affecting the luxury sector."
However, it added that sales trends had improved as the period progressed, indicating that the right steps were being taken to restore the business to growth.
UK retail sales during the six months fell by 9% to £45.1m, partly as a result of fewer tourists. However this was offset by growth of 20% in international markets. Online sales edged up by 1% to £6.6m, accounting for 10% of group sales against 8% last year.
Wholesale sales declined by a greater-than-anticipated 31% to £19.6m, reflecting a combination of inventory reduction and conservative ordering by the group's Asian and European franchise partners.
Mulberry, which issued three profits warnings under Mr Guillon's leadership, painted a brighter picture for the coming months.
The reaction to a new range of bags developed with model Cara Delevingne and launched at the beginning of September had been positive, it said, and they had contributed to the improving sales trends.
The new range of bags will arrive in stores during November, in time for the important Christmas period, it said.
Mr Davis said: "As expected, the first half has been difficult, but the group remains profitable and cash generative, giving us the resources to invest for the future. Despite the current challenges, I remain confident that we will build on Mulberry's solid foundations and unique brand positioning in the luxury market to restore growth in the medium term."
Mulberry opened its second UK factory in Bridgwater just over a year ago, creating 320 jobs. The move doubled its UK production capacity and more than half its handbags are now made in the UK using traditional skills and craftsmanship.
Mulberry shares recovered later in the morning and by lunchtime were trading 10% down on the day.