Precision measurement firm Third Dimension, which works with manufacturers such as Airbus and Rolls-Royce, is targeting further expansion as it prepares to relocate its Bristol base a matter of feet to a neighbouring unit.
The move, which will keep it on the Brabazon Office Park in Filton, will allow the firm to bring in smarter ways of working and help it reach the highest quality and safety standards.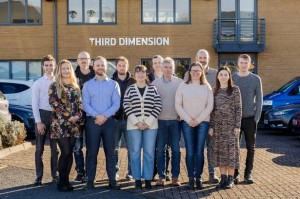 It has also been driven by a complete change of work behaviour post-Covid and by the firm's commitment to sustainability as its new premises will help it reduce its carbon footprint.
The new base, pictured, will house its assembly, calibration and office functions.
Established in 1995, Third Dimension makes handheld and robot-deployed non-contact gauging systems which are sold across the world to major manufacturers.
It has a long and reputable track record of supplying its measurement equipment and services, including its GapGun and Vectro products, to the largest names in aerospace, automotive and energy sectors worldwide.
The equipment helps these firms work to tighter tolerances, carry out quality checks quickly and keep an audit trail on all measurements, providing the assurance companies need to advance manufacturing.
As well as Airbus and Rolls-Royce – both of which have major plants at Filton – Third Dimension also supplies global giants Lockheed Martin, GE, Volvo and Samsung.
After strong growth last year, including in overseas markets, the firm plans to recruit four new members of staff, taking its headcount to 27.
Third Dimension CEO Francois Froment said: "Operating more smartly is at the heart of everything Third Dimension does, and we are now in a strong position to step up our ability to deliver state-of-the-art solutions for the automotive, aerospace, energy, and consumer goods manufacturing sectors.
"While we are only moving next door, this is a statement of intent for us, enabling us to adapt and respond to demand, taking advantage of new opportunities."
The re-location will follow the launch late last year of a new application engineering team to deepen the firm's technical expertise and strengthen its customer support resource at the new base.