A Bristol innovation hub aimed at tech and science start-ups and scale-ups is to expand next year to provide more lab and workshop space.
Future Space, pictured, has helped generate millions of pounds of investment for its member firms and create hundreds of high-value jobs since it opened as a 40,000 sq ft centre on UWE Bristol's Frenchay Campus seven years ago.
Launched with the aim of sparking new ideas and opportunities by building bridges between innovative, fast-growth businesses, academic researchers and students, it is now it is gearing up to expand into an extra 10,000 sq ft next year as it strengthens its role in Bristol's burgeoning tech and biotech and bioscience ecosystem.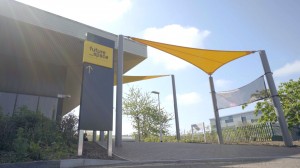 Future Space's expansion has in part been ignited by the departure of its biggest success story so far, bio-pharmaceutical consultancy eXmoor Pharma, pictured below, which grew from a team of seven to more than 80 while in the centre.
Its departure into its own £50m dedicated cell and gene therapy centre in Patchway has paved the way for fresh talent to access Future Space's award-winning facilities.
Among the firms arriving at Future Space, part of UWE Bristol's University Enterprise Zone, this year have been drone show performance firm Celestial Labs, Impulsonics, which uses soundwaves to move cells in petri dishes, and Reach Industries, which is developing a visual lab intelligence platform to supercharge modern science.
Others include Phoenix NC, which is investigating and researching the sustainable manufacture and application of biopolymers, health firm SAH Diagnostics, pioneering heating firm Nusku, NPK Recovery (a VDBUK company), which aims to produce a natural fertiliser made from human urine, and Silent Sensors, which makes smart tags and sensors.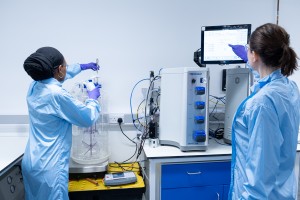 Meanwhile, Albotherm – A University of Bristol spin-out developing an innovative temperature-responsive coating for greenhouses, pictured below - and Eclateral – which is making a new range of lateral flow tests – have expanded by taking over more lab space, and FluoretiQ has moved to Future Space from their previous home at Science Creates.
Businesses based at Future Space, which is managed by Oxford Innovations, can access on-site support from neighbouring facilities at UWE including the Bristol Robotics Laboratory, Launch Space Incubator, the Health Tech Hub and the Centre for Print Research.
NPK Recovery project manager Lucy Bell-Reeves described Future Space as a "genuinely unique workspace in terms of the different elements it offers".
"Not only does it have lab space, office space, and space to hold events – there is also a large outdoor space to house our shipping container, which we've recently moved here to develop our natural, urine-based fertiliser," she added.
"This type of space for innovation is just not possible in the city centre. It suits our culture too, we all have responsibilities outside the business so we don't necessarily work the usual nine-to-five, and Future Space offers us the flexibility to really embrace hybrid working."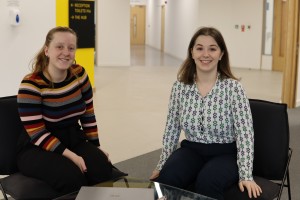 Russell Murchie, founder and CTO at Nusku – which is creating a revolutionary new heating system – said: "I left my previous job on Friday, started at Future Space on Monday, and had joined the Launch Space incubator by Tuesday!
"That's how fast things move here, which is what you need when you're developing a new product – in our case we're revolutionising how we heat our homes.
"That was a year ago and since then we've accessed free support from the innovation team and their advisory network, worked with interns from UWE Bristol and received technical advice from university staff, as well as launching our pre-seed funding round with interest from investors and angel networks.
"We're building an outdoor product, so we need outdoor test space – Future Space has enough areas for us to do this. It has been the perfect place for us to create Nusku."
Future Space's recently appointed centre director Matt Freeman said: "It's an honour to have joined Future Space just as the brilliant team here have been recognised for their role in nurturing the tech innovators of tomorrow.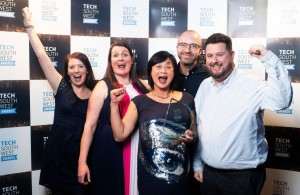 "As we look to the future and chart Future Space's next phase of growth, we must remember that what makes us unique is where we are: located in the heart of UWE's Enterprise Zone, surrounded by cutting-edge research centres, high-end facilities and rich collaboration opportunities with leading academics and the brightest students.
"Future Space has the power to be the innovation centre of choice for all hi-tech businesses inspired to work at the cutting-edge of their industry, be it health and life sciences, advanced engineering, digital technology, green tech or beyond."
Future Space innovation manager Thanh Quan-Nicholls said she was looking forward to helping the new firms grow.
"Our supportive ecosystem is key to providing the right environment for success," she added.
"We have a wonderful collaborative community which helps to nurture innovation and support our founders who are focussed on creating positive step-change in technology, health care and sustainability challenges."
Future Space last week won the Supporting the Sector Award at the Tech South West Awards, pictured above.