Businesses have come far in terms of gender equity in recent years, a panel discussion on the key topic heard, but there is still a long way to go in achieving it both in and outside of the workplace.
The event, staged by Business West – the organisation that run Bristol Chamber of commerce – to coincide with International Women's Day, heard from five inspirational West of England businesswomen.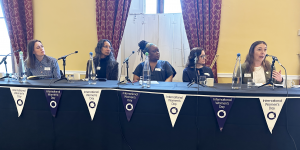 The panel drew on what has benefitted them in their careers – including mentoring and having role models – but also how they are trying to level the playing field in their own sectors.
These included changing the language used in job applications and ensuring their teams were given the flexibility they needed in the workplace so they could balance work and childcare responsibilities.
The event, attended by nearly 100 women, also discussed how there needed to be a culture shift in businesses to consider and recognise people's different experiences and values.
On the panel were LaToyah McAllister-Jones, executive director of St Paul's Carnival, Jaya Chakrabarti, founder of TISCreport, a Bristol-based platform for tackling modern slavery in supply chains, Donna Speed, CEO of Bristol science centre We the Curious, Lucy Ackland, senior product manager at Gloucestershire specialist engineering group Renishaw, and Business West membership director Emma Carter,
The event also coincided with the launch of a three-year gender equity campaign by British Chambers of Commerce – which Business West is a key member of – based on a survey of more than 4,000 respondents.
It found just under two thirds of women felt they had missed out on career progression as a result of childcare responsibilities, while almost two in five expect to suffer the same as a result of menopause.
Emma Carter kicked off the event by talking about the three steps to equity that businesses should consider – removing the gender pay gap, promoting work-life balance and recognising imbalances in the workplace.
LaToyah said: "It starts with the organisation. You have to be very honest about where you are and have difficult conversations.
"Businesses need to check their human biases and start looking at all of those entry points to their organisation. What is your website saying about who you are? What does your marketing material say?"
Lucy told the event that she had recently read some articles about how much unpaid work women do.
"It's not just in terms of childcare or caring for parents," she said. "It's even all the small tasks that we do every day. And that means that we go to work slightly more tired, and slightly more frazzled than everyone else, because of all these extra things we do.
"It's important that we ourselves are challenging our gender bias but that businesses also recognise this and make changes to their culture and structure."
Jaya, who is also president of Bristol Chamber of Commerce, said the skills shortage was a challenge for all businesses while at the same time women were leaving work, perhaps due to the perimenopause and the menopause, and feeling unsupported.
"You've also got women who don't feel that they can come back with the skills that they took away when they went on maternity leave," she added.
"Businesses don't have a choice. If you want to grow, you need to make room for these kinds of life changes so that you keep the skills and grow with them."
The panel also discussed the importance of being a "loud, brave leader" and how this could initiate positive culture change in the workplace.
Rachel said: "If I need to leave at a perfectly reasonable time to go and do something for one of my children, everyone can know about that, because they're entitled to do that exact same thing.
"We should be proud of the fact that we've got families to take care of. Leaders should normalise this for people from the top down and show that it's okay to have other priorities and support each other to fulfil them."
How to be a successful leader was also discussed, with the panel agreeing that women do not need to 'wear the mask' of what they think male leaders are.
They should be their authentic self and promote a culture where success can mean being caring and kind.
Donna added: "It's important to find engaging ways of asking individuals about what they need and finding out whether things have shifted across the organisation for people and whether your policies are still serving the real needs of people."