Bristol-based Blue Badge Company, the innovative firm that designs and makes a range of stylish living aids, is officially opening its new base this afternoon as it prepares for more growth.
The 1,200 sq ft facility at St Gabriel's Business Park, Easton, will give the firm room to expand, take on more staff and widen its product range.
The firm was set up nearly five years ago by entrepreneur Ellen Green, pictured, to create colourful display wallets that would inject some fun style into the previously dull and clinical disability market.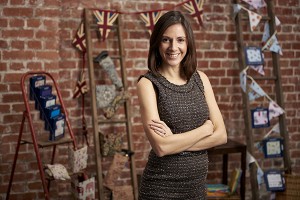 It has grown from one to 15 full-time and five part-time staff and produces more than 1,500 Blue Badge wallets a week as well as hot water bottle covers, lap tray and walking stick bags, and supplies 2,500 Boots stores nationwide, the Post Office, Lloyds, Halfords and Argos online.
Last year Ellen appeared on Dragons' Den but walked away empty-handed after rejecting offers by three dragons to invest in her business. However, the firm received two months' worth of orders for its products in just 24 hours and has since attracted investment, won a clutch of awards and outgrown its original base in Montpelier.
Ellen is extremely passionate about inclusive employment and equal opportunities and Blue Badge Company provides specialist employment and training for people with learning disabilities, mental health issues, physical disabilities and long-term health issues.
Because of the way the firm manufactures its products it has been able to create work opportunities ideal for primary caregivers and those with domestic responsibilities.
Performing the official opening of its new home in Easton this afternoon is another Bristol-based Dragons' Den veteran – Rob Law MBE, the founder and CEO of the firm behind the highly successful children's ride-on suitcase Trunki.
Rob said: "I'm delighted to be asked to open this fantastic new facility for Blue Badge Company, which is not only proudly manufacturing in Bristol, but providing employment opportunities to those who struggle to find work due to their personal circumstances and wish Ellen and company all the best in their next chapter of growth."
The new base has a purpose-built workroom to accommodate the manufacturing department as well as a suite of offices and there are plans to build a second storey by the end this year.
Ellen said: "I am delighted that Rob will be opening our new premises. I very much admire and respect his approach to leadership and innovative thinking. We are both Bristol-based entrepreneurs, Dragons' Den alumni and committed champions of British manufacturing.
"My appearance on Dragons' Den was a great stepping stone in terms of raising awareness of the company, and orders have increased month on month since the show aired and our online business has increased by 50%.
"I believe a company is only as strong as the team behind it. Providing work for people who find it more difficult to access employment really boosts personal confidence and team moral.
"One thing that has always driven me is the idea that business has a responsibility to be good for society and I've discovered that a rewarding, sustainable job can change someone's life – I've seen it first hand and it is the part of my company that I am most proud of."