South West law firm Ashfords, which has an office in Bristol, has demonstrated its commitment to employee wellbeing after re-signing a national pledge for employers who are positive in their approach towards mental health.
The Mindful Employer Charter is one element of the Mindful Employer initiative, which aims to increase awareness of mental health in the workplace and assist businesses to provide a supportive working environment.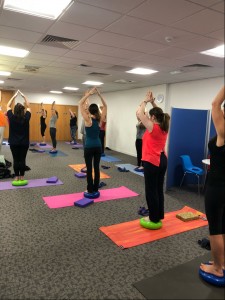 Ashfords, which employs around 500 people across its offices in Bristol, Exeter, London, Taunton, Tiverton and Plymouth, first signed the Charter in 2015.

The initiative is backed by a wide range of employers from across the UK and gives them easier access to information, practical support, training, networks and other related assistance. Ashfords' approach to the initiative includes holding regular yoga classes, pictured.
Ashfords head of human resources Ken Bryant said: "Employers are becoming increasingly aware of the importance of mental health, and we are proud to have demonstrated our ongoing commitment to investing in programmes to support the physical, mental and social wellbeing of our employees over the last few years.

"The Charter is different to other accreditations as it recognises that definitive policies and good practices are not necessarily set in stone. It's a set of aims that we can continue to work towards. It's incredibly important that Ashfords provides non-judgmental and pro-active support to its people who experience mental ill health.

"We value our incredibly talented and committed workforce so always seek to find ways we can better support them."
Mindful Employer is run by Workways, part of Devon Partnership NHS Trust.