Research carried out by a Bristol-based international removals firm has revealed the growing popularity of Middle Eastern countries among Brits moving abroad for work – replacing former favourites such as Canada and New Zealand.
1st Move International, which is based in Avonmouth, has been managing removals across the globe for more than a quarter of a century and has witnessed considerable changes over that time.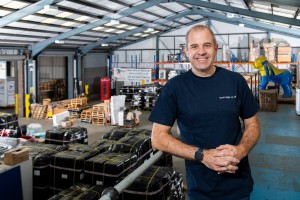 But the fascinating picture painted by its latest survey of destinations surprised its bosses at the firm, which does not operate in mainland European destinations
Analysis of more than 40,000 international moves since 2019, including 6,000-plus so far this year, reveals Saudi Arabia and the United Arab Emirates are becoming increasingly popular.
While the US and Australia remain at the very top of the list, with more than 1,000 people moving to each so far this year, in third place is the UAE, followed by Canada and New Zealand.
Cyprus has jumped one place to sixth, with South Africa falling behind in seventh. Singapore remained in eighth place, Brazil in ninth while Saudi Arabia climbed one place to tenth.
Other big movers in the league table include Barbados, jumping 22 places to claim 18th place, Costa Rica up 22 to 23rd, the Bahamas up 21 to 25th, Trinidad and Tobago up 11 to 27th, Hong Kong up 12 to 32nd, Panama up 24 to 33rd and the Dominican Republic, which leapt 58 places to reach 35th slot.
Other popular destinations featuring in the top 40 include Turkey, Thailand, the Cayman Islands, Jamaica, and Japan.
1st Move International managing director Mike Harvey, pictured, said: "We wouldn't divulge individual reasons for moving, but anecdotally we are clear that our customers are citing many benefits of moving to destinations like the Middle East, as well as the Caribbean," he said.
"An obvious one is the weather, with a dry and sunny climate all year round, alongside a high standard of living and an already large population of British expats to socialise with.
"Economically, there is significant development in countries like the UAE and Brits moving there can enjoy tax-free salaries in job sectors such as finance, healthcare and education."
He also said Inflation was currently just over 2.2% in the UAE – much lower than the UK and other EU countries – with the Dirham pegged to the Dollar providing exchange rate stability.
"The Middle East is also a central location for travel to Europe as well as Asia and Australasia, making it a good base for travel-minded professionals," he added.
The rise in the number of moves to desirable locations such as the Caribbean could also be due to a change in perceptions of what is possible, post Covid.
"To move a whole family abroad might be something of an undertaking," Mike said.
"But for many people without family ties the ability to work remotely means they can easily and practically live anywhere in the world. In fact, even moving with a family is not perceived as arduous a task as it used to be.
"We hear of people deciding they can make things work in a far-flung destination with a warm climate, blue skies and sunny beaches – coming back to the UK occasionally if necessary but generally based somewhere like Mexico, Bermuda or Thailand.
"In terms of perception, something which 50 years ago might have seemed like a major life move can now be managed much more easily."
The company said that while all moves are personal rather than corporate, many are often managed and reimbursed by employers as part of a business move abroad.
For more information, visit www.shipit.co.uk