The planned merger between South West law firm Ashfords, which has one of its six offices in Bristol, and single-location Thames Valley firm Boyes Turner has been abandoned.
In a statement, Ashfords said the firms were "currently too far apart" for the tie-up "to work at this time". 

Ashfords, which employs more than 500 people across its offices in Bristol, Exeter, London, Taunton, Tiverton and Plymouth, added that its strong financial growth in recent years and the merger process had "served to highlight its strength as an independent".

Boyes Turner chief executive and partner Andrew Chalkley had a similar approach. He said: "'We looked very closely into the benefits of this proposed merger but, on balance, we decided that it was not the right decision for Boyes Turner, our people and our clients."
The proposed merger, which was due to take place on May 1, was announced in early December, although the firms said they first held "exploratory negotiations" in early 2017. 
It would have created a combined firm with 100 partners, around 600 staff and a turnover of £60m.
At the time of the merger announcement the firms said that Reading-based Boyes Turner's track record in tech and innovation would complement Ashford's Bristol office, which has been particularly active over recent years in working with the region's burgeoning tech and creative sectors.
However, following months of discussions the two firms have agreed that the link-up be abandoned due to structural differences.

Ashfords CEO Garry Mackay, pictured, said: "We have seen 76% growth over the last six years and are currently having a strong year with initial indications from all departments that there is significant growth potential for next year.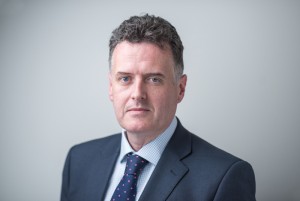 "We have a number of initiatives and investments that we will continue to focus on as we look to further innovate and develop services and product lines that support clients beyond their normal periodic transactional legal needs.
"I would like to take this opportunity to wish Boyes Turner every success. It is a great firm with great people and I have no doubt it will continue its success."
Boyes Turner's Andrew Chalkley also said his firm had been expanding rapidly.
"We have seen double-digit growth in recent years and this has continued into the current financial year," he said. "The merger discussions highlighted our strength as a business and the quality of the people we have in our team, so we can look to the future with real confidence.
"The long history of the Boyes Turner name will continue in Reading, the Thames Valley and the South East as we build the next stage in our story."
The merger would have been unusual for a South West law firm in giving them a base in the Thames Valley.
Most expanding Bristol and West of England firms have by-passed Reading to open in London – or merged with firms in the capital – while both Thrings and Foot Anstey have opened offices in the Southampton area to build a presence in the South Coast market.
The Boyes Turner's name would have disappeared under the merger. Its Reading would have come the merged firm's second largest behind Exeter with 22 partners, more than 55 other lawyers and a total of 160-plus staff.
Ashfords spent more than a decade as half of merged Bristol-headquartered national Top 50 outfit Bevan Ashford before it split into two separate entities. Bevan Brittan took the offices in Bristol, Birmingham and London, while Ashfords had the South West offices to avoid any overlap in geography.
Ashfords then opened a small base in Bristol, which it has since grown to employ more than 80 people, as well as in London.