Bristol businesses should take inspiration from the life and achievements of former United Nations General-Secretary Kofi Annan, Mayor Marvin Rees told an event to celebrate his life.
Kofi Annan, who died in August, was remembered at a special event at Bristol's City Hall on Monday.
Staged by the Mayor's Office in partnership with Ghana Community of Bristol (GCB), the memorial evening recognised the exceptional contribution Mr Annan, pictured, made to international peace and security and his outstanding efforts to promote and protect human rights during his 10-year leadership of the UN and after his tenure of office.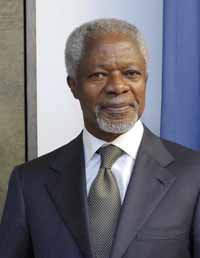 Mayor Rees said Kofo Annan sought to bring people, communities and countries together and to build a better understanding. It was this legacy that businesses, individuals and communities across Bristol should build on – now was a time for them to work together to develop opportunities for all.
Frank Arko-Tharkor, president of Ghana Community Bristol, also told the event it is vital to keep Kofi Annan's legacy alive.
Mr Arko-Tharkor said: "The interest of African diaspora in the South West to see Bristol recognise the immense contribution of the late Kofi Annan – to peace, tolerance, poverty and injustice resonates with the city's role as a City of Sanctuary and the Mayor's drive for equality and inclusion."
Following the event there was an opportunity to sign a book of condolence.
Kofi Annan, who died on August 18, was born in Kumasi, Ghana, on April 8, 1938, and served as UN Secretary-General for two consecutive five-year terms, beginning in January 1997. He used his time in office to advocate for human rights, the rule of law, development and Africa, and worked to bring the UN closer to people worldwide by forging ties with civil society, the private sector and other partners.
As Secretary-General, he also galvanized global action to fight HIV/AIDS and combat terrorism. Mr. Annan and the UN jointly were awarded the Nobel Peace Prize in 2001.