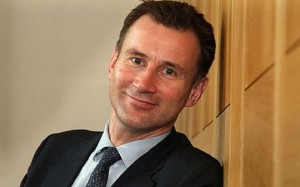 Culture Secretary Jeremy Hunt has outlined his vision for new local television stations to Bristol TV and media figures, saying they will radically alter the way people receive information about their communities.
Bristol is among 65 towns and cities named by the Department of Culture Media and Sport (DCMS) as potential locations for one of the new stations
Local TV is one of the Government's top media priorities and the DCMS have confirmed that up to £40m will be taken from the BBC licence fee and put towards it.
Bristol and West of England attendees at the Local TV summit in Newport where Mr Hunt spoke included representatives from South West Screen, the Creative Industries iNet, Connecting Bristol, Bristol City Council, Bristol Anchor, TV South West News Consortium and ITV West.
Mr Hunt told the summit: "These new, local TV services will be a fundamental change in how people get information about their own communities, and how they hold their representatives to account.
"There's a huge appetite for local news and information in communities the length and breadth of the country. I want people to be able to watch television that's truly relevant to them, about what's happening where they live and featuring the people they know.
"The first licences will be open to bidders in just a few months. But before then, we need to decide which areas are best placed to pioneer the new service. In deciding the order in which licences should be made available, we need to judge the level of interest from potential broadcasters and audiences, and take the views of companies interested in bidding for the single multiplex licence."
The proposals require the Government to reserve sufficient local, low-cost spectrum for carrying the local TV services; create a proportionate and targeted licensing regime for the spectrum and local TV service operators; and to secure appropriate prominence for the licensed local services in television electronic programme guides.
With the first wave of licences due to be awarded next year, the eligible areas are being asked to make the case for why their town or city should be one of the first to bid to enjoy the service.