Bristol's Galleries retail mall could be transformed into a major mixed-use development with housing, restaurants and public open spaces as well as shops under plans drawn up by city-based developer Deeley Freed.
The firm, which is working with The Galleries owner, property management firm LaSalle Investment Management, on the scheme, described it as a "once-in-a-generation opportunity to create a world-class, sustainable, vibrant destination" in the city centre. The scheme would also include offices and a hotel.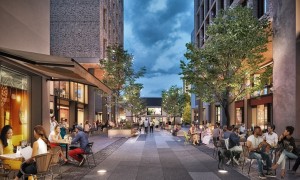 Changes in shopping patterns over the past decade have made traditional retail malls like The Galleries unviable.
That trend was exacerbated during the pandemic when a massive shift to online shopping put further pressure on the sector.
Bristol property industry insiders have expected a major redevelopment of The Galleries, which opened in 1991, for some time as shopping habits change and city centres such as Bristol's become leisure destinations, with an emphasis on eating and drinking rather than just retail.
Deeley Freed, which has been responsible for a string of major property schemes around Bristol over the past few decades, said footfall in The Galleries was down 35% from pre-pandemic levels. 
The three-storey mall has around 70 retail units occupied by a mixture of national chains such as Argos, Boots, Poundland and Robert Dyas and Bristol independents such as bamboo clothing and accessories store Mabboo, as well as more than 1,000 car parking spaces.
A spokesman said: "A change in shopping patterns, accelerated by the Covid-19 pandemic, has led to a greater number of vacancies in The Galleries which has made the current centre's future increasingly challenged.
"This is an amazing opportunity to help reinvigorate Bristol's city centre, responding positively to the changing ways we now live, work and shop.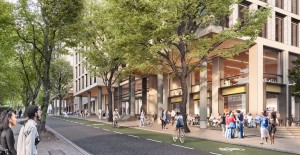 "The proposals look to create a truly mixed-use and diverse scheme with restaurants, shops, community facilities and leisure destinations that support the day and night-time economy, office space, a hotel, open market and affordable homes, and student living.
"It will provide a complementary balance and range of uses that support the local community, boost the economy, address Bristol's changing needs and priorities and ensure it continues to provide something for everyone.
Deeley Freed's plans include converting 30% of the five-acre occupied by The Galleries into high-quality public realm with new civic spaces and opportunities for urban greening.
The spokesman said: "Broadmead currently turns its back on Castle Park, which is a missed opportunity.
"The proposals look to reverse this along Newgate with new, vibrant pedestrian linkages into the city centre as well as terraces, with cafes and restaurants facing the park [pictured]."
Deeley Freed stressed its scheme was still in the early stages of the planning process and The Galleries would remain open as usual for at least the next two years.
"We'd add that the retail units and occupiers fronting onto Broadmead fall outside of the redevelopment proposals and are not part of the plans. We'd encourage people to continue to shop and support their local traders," the spokesman added.
A public consultation is to be held with events including:
A webinar on Wednesday 13July at 6pm (please register via the website).

A public exhibition on Thursday 14 July from 3pm to 7pm, and Saturday 16 July from 10:30am to 1:30pm on the ground floor of the Galleries opposite Boswells Cafe.

Two walking tours to discuss the opportunity Thursday 14July at midday and Saturday 16 at 1:30pm. Visit the website to register.
Vivienne Kennedy from Broadmead BID said: "Shops and shopping centres across the country have been struggling as they try to compete against online retailers and rising living costs, while at the same time trying to bounce back from the pandemic.
"The high street is constantly evolving, always trying to meet consumer needs as they too change, and we see mixed-use developments, with much more focus on the customer experience, as an excellent way to increase footfall, vibrancy and sustainability.
"We'd encourage people to get involved in the consultation as it's in all our interests to get this important opportunity right."
The Galleries have had a number of owners since in opened 31 years ago. Current US owner LaSalle Investment Management bought it for a reported £32m three years ago from InfraRed Capital.
For further information on the project, visit: www.galleriesfuture.com. The website will be updated after the exhibition.