Bristol Airport is to open two new premium pre-flight lounges as it prepares for its busiest summer getaway period in years.
The airport, which has almost fully recovered from the impact of the pandemic, is working with airport services business CAVU to bring its Escape Lounge and 1903 Lounge concepts to Bristol.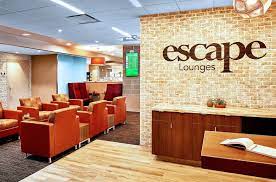 The airport said both had a reputation for offering passengers a relaxing way to start their holiday or business trip, with a wide selection of complimentary food and drink and dedicated space and services.
They will be on the mezzanine floor of the departure terminal, with bookings for the adults-only 1903 Lounge available from 1 May and the family Escape Lounge from 1 June.
While the lounges will be launched this summer, they will be refurbished this winter to bring both in line with CAVU's Escape and 1903 brands.
CAVU, part of MAG (Manchester Airports Group), which operates Manchester, London Stansted, and East Midlands airports, works with airports in the UK and US, providing services such as parking and security as well as lounges.
It has 17 Escape Lounges, including in Palm Beach International and TF Green International Rhode Island airports, pictured above, in the US as well as MAG's UK airports, and one 1903 Lounge in Manchester Airport, pictured below.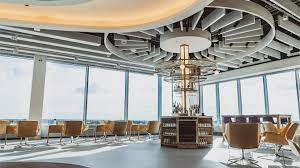 It said its Bristol lounges would be inspired by local architecture and design, showcasing distinctive features of the city in spaces designed with passengers' needs in mind.
These will include quiet zones to relax, areas to entertain the family or flexible spaces for larger groups, as well as seasonally inspired menus of complimentary regional hot and cold food freshly prepared in-lounge and a curated drinks list including national and local brands.
Passengers will also be able to take advantage of high-speed wi-fi, mobile charging stations and power sockets and digital access to newspapers and magazines through PressReader.
CAVU EMEA president Nolan Hough said: "We are thrilled to bring these premium lounge experiences to Bristol Airport.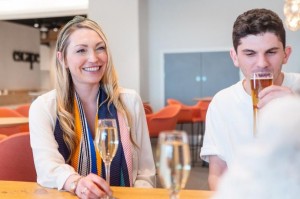 "From a curated menu to excellent customer service, this lounge will help travelers unwind and recharge as they await their flight."
Bristol Airport commercial director Rupert Lawrie added: "We are delighted to have partnered with CAVU for the opening of the two new executive lounges this summer in the department lounge. "Both the Escape Lounge and 1903 Lounge will offer a fantastic experience for those going on holiday or away on a business trip.
"Both will ensure that passengers will start their journey in style with high-quality food and drink.
"The development to the executive lounges is part of a major strategy to enhance facilities for passengers using Bristol Airport.
"We are very confident that the investment and the evolution to the executive lounges will provide a greater customer experience as we improve and create new places to eat, drink and relax before you fly."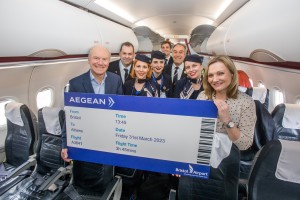 The opening of the lounges follows a recent £4m redevelopment of the airport's main departure lounge, including a refresh of its World Duty Free store, a new-look bar and restaurant and a new, larger Boots health and beauty store.
Bristol Airport, which has made the fastest recovery from the pandemic of any in the UK, expects to handle around 9.9m passengers this year – nudging its current capacity of 10m for the first time since 2019.
That capacity is set rise to 12m following the High Court's decision to dismiss a legal challenge from environmental protestors against its expansion.
A number of new routes are being introduced from the airport this year, the latest being Aegean Airlines' service to Athens, which started last month, pictured.
The twice-weekly service, the Greek airline's first from Bristol, gives holidaymakers from the South West an alternative to easyJet's Athens service from the airport as well as improved connectivity via Athens to destinations such as Cairo, Tel Aviv and Beirut.
EasyJet, Bristol's largest operator flying to 68 destinations from the airport, last month launched a new service to Enfidha-Hammamet in Tunisia and will also introduce flights to Chania, Crete, this year.
Swiss International Air Lines' (SWISS) has recently started a service to Zurich and full-service German flag carrier Lufthansa is to increase frequency on its Frankfurt route.
Meanwhile, Ryanair is to increase its Bristol-based fleet from four to five aircraft this summer, which will allow it to increase its route network from the airport to 33 with new services to Porto, Marseille, Bydgoszcz and Venice Marco Polo Airport.