Loungers, the highly successful Bristol-based café-bar chain, is toasting a triple boost with the launch of its first roadside restaurant, the relocation of one of its first Lounges and the opening of another.
The Brightside concept aims to fill what Loungers' directors see as a gap in the market for "genuine hospitality" in roadside dining and a fight back against the drive-thrus and quick service restaurants that have dominated the sector in recent decades.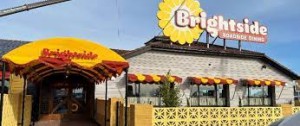 The aims is to evoke "memories and excitement" of childhood road trips, say Loungers. Visitors will be greeted by a look that is warm, fun and modern yet feels very familiar and nostalgic.
Brightside restaurants, the first of which opened last week on the A38 south of Exeter, will share the same core values as the group's Lounge and Cosy Club brands, it said – a focus on all-day dining to appeal to a broad audience and a "fierce commitment to value-for-money, run by teams that deliver exceptional service".
The move coincided with the relocation of the chain's Porto Lounge in Fishponds to larger premises a stone's through away in the former Card Shop and Lloyds Pharmacy on Fishponds Road.
Porto Lounge, which opened in its original location in 2004, was the third Lounge in a chain which now has 179 outlets – the latest, and the further north so far, launched in Kendal this week.
It also operates 35 Cosy Clubs, which tend to be in larger city-centre sites.
The group, which built its national reach on the success of the model it established in its early days in Bristol suburbs, last year announced plans to have at least 500 sites in its portfolio within several years, with a target of opening between 32 and 35 a year.
Loungers founder and chairman Alex Reilley said he had been kicking around the idea behind the Brightside concept for several years before it took hold during the pandemic when the group was looking for new projects.
"Our vision is for Brightside to reinvigorate roadside dining and for it to become an integral part of people's plans," he said.
"Travelling shouldn't just be about the destination – we want to encourage people to enjoy the journey.
"We believe Brightside will really shake up what has become an uninspiring sector, and that there is potential to roll out Brightside across the UK in the coming years.
"Our expertise in high-quality, great value all-day dining through our other brands means that we're confident that Brightside can bring proper hospitality back to roadside dining across the UK."
The family friendly concept has an almost cinematic interior scheme inspired by the 1970s and 80s, caravan interiors, classic road trip movies and memories of roadside dining and holidays from a bygone era.
The walls are panelled in rich cherry wood veneer inset with British landscape artwork, stone, and a vintage countryside view mural, while the floor is covered in wooden parquet.
The dining area will be furnished with creamy Formica topped tables with mid-century inspired dining chairs and booths upholstered with orange and brown striped bus seat fabric.
The nostalgia continues in the bathrooms complete with avocado bathroom fittings and terrazzo flooring and outside with crazy paving flooring, caravan awnings to the windows, concrete leaf block screen walls and raised planters.
Brightside's menu will feature what Loungers calls "elevated comfort food", including breakfasts with potato croquettes and a new take on the classic tinned tomato; sourdough pizzas with homemade San Marzano tomato sauce topped with mozzarella; and a unique adaptation of the classic ham, egg and chips, featuring treacle-cured pork belly and waffle fries with a charred pineapple and chilli salsa.
There will also be plenty of vegan and gluten-free options.