Rapid-growth Bristol-based café/bar group Loungers has toasted the opening of its 200th Lounge by looking ahead to having three times that number in the near future.
The group opened its first outlet on North Street in Bedminster 21 years ago. Spotting a gap in the market for a relaxed, all-day venue with a strong food offering and quirky decor, they used it as a template to open others around Bristol, then further afield.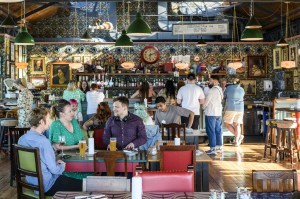 The concept worked particularly well on suburban high streets such as Fishponds and Gloucester Road, and smaller towns where rents were cheaper and competition was mainly from coffee shops or traditional pubs.
This has paid off particularly since the pandemic as more people work away from the office.
The group said its 200th Lounge – Verdetto Lounge in Buckingham – would aim, like all the others, to be a "home-from-home" for its customers, offering excellent all-day food and drink with a real focus on making a positive impact on the local community.
It pointed out that the emphasis on community had been an integral part of every new site opening, with each Lounge contributing an average of nearly £1m investment to the local high street it serves, and the creation of up to 30 new jobs.
The aim to grow the chain of Lounges to 600 is an increase to the target of 500 it has aspired to for around eight years.
With the portfolio Lounges stretching from towns as far south as St Ives, Cornwall north to Morpeth in Northumberland, it has plans to open between 32 and 35 a year.
Loungers chairman and co-founder Alex Reilley said: "To be opening our 200th Lounge is a fantastic landmark, but there is lots more for us to go for.
"We firmly believe that there is scope to have at least three times that number of Lounges in the longer term, and we are more ambitious than ever before about our plans for the future."
He said despite well-documented stories predicting the demise of the high street, well researched geographical positioning has meant Lounges have prospered up and down the country, often helping to create a destination location and reinvigorating the adjacent retail landscape in the process.
He added: "We are hugely proud of the positive impact that our sites have had on local communities right across the UK since opening the first Lounge 21 years ago.
"We are determined to continue playing a major role in breathing new life into high streets, as well as creating and sustaining much needed local employment.
"Time and time again we've seen that the opening of a Lounge has a really positive knock-on effect on the businesses around it and, of course, on the local employment market.
"Last year alone we created around 1,000 jobs through new site openings and are on course to comfortably exceed that figure in the current year."
The 200th Lounge opening brings the group's total estate size up to 238, including 35 Cosy Clubs, which tend to be based in larger, city and town-centre buildings, and three of its recently launched Brightside roadside restaurants.