Bristol Mayor George Ferguson performed the ribbon cutting to officially open commercial law firm Meade King's new office – and revealed he had been a client of the firm 45 years ago.
The Mayor had engaged the long-established Bristol firm not long after moving to the city to work as an architect.
The firm has moved to refurbished offices in Springfield House on Welsh Back from nearby Queen Square as it continues to grow.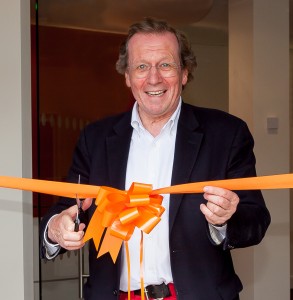 Mayor Ferguson said: "It is so encouraging to see long-established independent Bristol law firms like Meade King continuing to thrive in the city.
"Professional services have been one of Bristol's great success stories and I am delighted to lend my support to the continuing development of this important contributor to our local economy."
Meade King managing partner James Hawkins added: "With the economy on the mend, Meade King is expanding to meet the needs of Bristol business for legal advice.
"This move reflects our confidence that our service based on experienced staff providing a personal service will continue to be very much in demand. Being in Queen Square was lovely but from our much bigger and modern offices in Welsh Back we now have a view of St Mary Redcliffe and of the docks. We are delighted to be part of the continuing renaissance of this historic working area."
Meade King is one of the longest established legal firms in Bristol with roots going back to the 18th century.
The firm is one of the few remaining independent Bristol based practices providing a full range of legal services to businesses and to private individuals. It is one of the leading legal advisers to the dental profession across the country.