Yate-based managed IT service provider Orchard Computer Services has been acquired by a national operator in a £1m deal.
Orchard, which has been in business for more than 30 years, has built a loyal base of more than 120 active clients mainly in the South West and across a range of sectors, covering both the public and private sectors. 

Last year it generated earnings of £300,000 on revenues of £2.1m by providing high-quality consulting services and building tailor made, vendor agnostic solutions designed specifically to meet individual customer needs, followed by ongoing technical support.
Recurring revenues in 2021 accounted for 56% of total income and the average length of relationship among its 20 largest clients is 12 years, with no single customer representing more than 7% of total revenues.
The takeover by SysGroup further strengthens the Liverpool-headquartered group's presence in the South West while complementing its operations in South Wales, with more than 20 team members joining its team.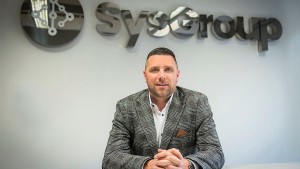 Orchard owners Ian Terry, who set up the business in 1990, and Chris Patten, who joined eight years later, will remain with SysGroup for at least three months to assist with the handover of customer relationships and integration into the group.
Orchard, which sponsors Yate Town FC, is SysGroup's second acquisition this month following the takeover of Edinburgh-based Truststream Security Solutions in a deal worth up to £8m.
SysGroup, which also has offices in Edinburgh, London, Manchester, Newport and Telford, has a developed a portfolio of significant acquisitions in recent years, including Certus IT for £9m in February 2019 and Hub Network Services for £1.45m in June 2019.
It also acquired Telford-based Rockford IT in 2018, expanding its market reach in vertical sectors, such as hotels and leisure.
SysGroup CEO Adam Binks, pictured, said: "Orchard is a well-established, well-respected business with a loyal customer base in the South West and I am delighted that we have been able to bring this business into the group.
"Our enhanced presence in the region will add even more value for the combined customer base and will create a raft of opportunity for all of our team members, including the addition of our 20 new colleagues from Orchard."