Bristol's fast-growing Bottle Yard Studios has attracted another major creative business – Emmy award-winning creative audio company Radium Audio.
The London-based firm, which designs music and sound for blue-chip clients such as Sky, National Geographic and the BBC, opened its 3,600 sq ft production studio space at the South Bristol creative industry hub this week.
It is Radium Audio's first venture outside of the capital and its arrival brings the number of business tenants operating from The Bottle Yard Studios in Hengrove to a dozen.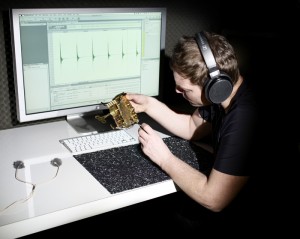 Founded by electronic musician, sound designer and record producer Andrew Diey in 2007, Radium Audio's work has received international recognition and a host of awards including Emmy, Promax UK & USA, Cannes Lions, and International Music and Sound Awards.
Its work includes some very-high profile original music composition and sound design projects, as well as interactive sound design and build and sonic brand identity for corporate clients.
Radium Audio founder Andrew Diey records clock sounds for Bentley
It has designed sound for Sky Sports News titles and Games of Thrones and even supplied a new roar for the famous MGM lion.
Major projects so far this year have included scoring titles music for the Sochi 2014 Games, Sky Sports Channel refresh, and creating sound and music tracks for international iPad game hit Blocksworld.
It has already recruited four staff in newly-created roles for the Bristol operation with more to come.
Its Bottle Yard facilities include several electronic production studios, a live studio, sound creation lab, Foley prop and performance area for sound effects, and several bespoke sound processing and edit work areas.
It also has a massive library of in-house organically-created sounds which is continually added to and updated and an inventory of conventional and purpose-built acoustic instruments.
Commercial director Robyn Taylor said: "We needed to increase our production capacity, and struggled to find the ideal space for expansion in London.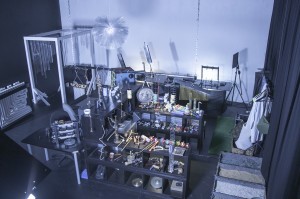 "We design and build our own instruments and create much of our sound source in-house, so we need to be able to make some noise and a bit of a mess sometimes.
Radium Audio's Radiumphonic lab
"The Bottle Yard presented a very viable option for us for a number of reasons; Bristol's proximity to London makes it logistically easier to manage the two locations compared to somewhere further afield, the area has a vibrant creative community with a great local talent base we can draw upon, and the Bottle Yard's management has offered excellent support throughout our design, fit-out, and set-up process.
"We're really looking forward to moving our craft forward in the new studios now that we have the increased space, facilities and team that we needed."
Bottle Yard Studios site director Fiona Francombe added: "We're delighted to welcome Radium Audio to their new home at The Bottle Yard.
"The calibre of their cutting-edge audio work is of the highest possible standard, pushing boundaries and winning critical acclaim internationally. We're proud to have played a part in attracting them here to Bristol, a city with an already outstanding reputation for audio post production services.
"This is the third new tenant to sign with The Bottle Yard Studios since the summer and it's fantastic to see the profile of our production hub develop with each new addition."
Recent additions to The Bottle Yard Studios tenant community include sustainable film/TV set-clearance company Drèsd, and Filmscape Media, a leading supplier of film and television equipment in the UK.