Turnover and profits at a firm making retro arcade machines have soared this year following an online overhaul carried out by a team of Bristol- based digital marketeers.
Bitcade achieved 370% revenue growth to just under £700,000, with website inquiries trebling and substantially improved conversion rates, after the 12-month programme by online marketing agency Superb Digital.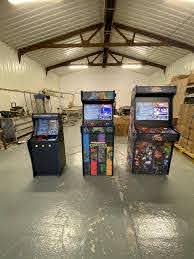 Gaming has soared this year as two lockdowns and social distancing restrictions have sparked a surge in home entertainment.
Initially set up by managing director Jack England in 2017, Bitcade started life on a mission to build the best customer arcade machines in the business.
The company started out making simple two-player gaming cabinets but it has since branched out into coffee table machines, pinball tables, DIY kits and hand-held emulators. It is currently based in two factories spanning 7,500 sq ft factory in Oldbury-on-Severn, Gloucestershire.
Its machines range in price from a £699, 22-in Bitcade cocktail arcade table to virtual pinball machines at £3,349.
Although enjoying consistent and manageable growth during its first two years, Bitcade's weak search engine presence was holding it back.
In September last year Jack approached Paul Morris, managing director of Superb Digital and, following a year of working together, the business is now thriving.
Aided by the pandemic, which forced many people to spend large amounts of time at home, sales at Bitcade have surged.
The company has grown staff numbers from two to six to cope with extra demand, and the company has also moved into larger premises.
Superb Digital, which has a core team of six based at Bristol's Spike Island, has provided a wide range of digital marketing services for Bitcade since the end of 2019.
The agency's work includes a new mobile responsive website with web-friendly content, a campaign of pay-per-click (PPC) advertising, regular blog content and a search engine optimisation (SEO) programme.
"I can't thank Paul and the team enough," said Jack. "The work Superb Digital have done has been fantastic and it's enabled Bitcade to go to the next level.
"There's not much positive to have come out of 2020 but as a business we've been lucky that more people are discovering, or re-discovering, a passion for arcade gaming as they spend more time at home, either as a break from work or because they've been on furlough.
"I hope this growth in popularity of retro gaming continues. We'll see where the business goes next but we've got a great platform from which to aim for even bigger things."
Paul has been working in the digital industry since 2000 and set up Superb Digital in 2014.
"Bitcade has been one of our big success stories of 2020," he said. "Their machines are things of beauty – a combination of the retro and the ultra-modern. It was clear there was an opportunity to grow the business and we were delighted to help.
"Thanks to lockdown, sales surged throughout the summer despite the pandemic and its economic fallout. This has put Bitcade in a powerful position for further future growth.
"We've particularly enjoyed their appreciation of the importance of increasing their digital marketing budget as revenue climbs in order to sustain and build on growth.
"It is by approaching the relationship as a partnership that we are able to do our best work. Bitcade's growth is a testament to this and is a huge 2020 success story for Superb Digital."
Pictured: Joe Cox and Paul Morris of Superb Digital, with Jack England of Bitcade, centre