Bristol firms are lining up to take to the tables for the return of the city's Ping Pong Fight Club next month.
Bristol Airport, Unite Students and Sustain IT Solutions are among the local businesses to have already signed up for the tournament and party on November 7, while the city office of accountancy group Smith & Williamson, last year's overall winner, has entered a team in a bid to retain the title.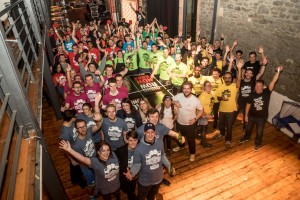 Bristol Business News will have a team competing on the night again having secured a trophy last time as a result of some dazzling table-top action in the nail-biting early rounds.
Firms signing up for the event of the year will be able to enter a team of four players and bring along a cohort of supporters – who will each receive a company-branded t-shirt – to cheer on their colleagues.
The Ping Pong Fight Club takes place again at Paintworks on Bath Road, with 14 tables playing host to 64 'gladiators' from 16 organisations.
The evening will also offer businesses a host of fun activities and entertainment alongside the main tournament, including social ping pong zones for friendly grudge matches, the chance to go head-to-head with a ping pong robot, buddy-up doubles and even virtual reality ping pong.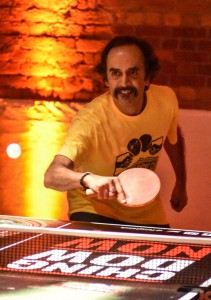 Guests will also be able to enjoy pop-up bars, street food and face painting accompanied by the Ping Pong Fight Club DJs. The overall winner will receive a pro ping pong table for their office.
Ping Pong Fight Club began five years ago as a stand-alone annual tournament in London but has since spread around the country with events taking place in seven cities.
Organiser and founder Ade Leigh describes Ping Pong Fight Club as an "inspiring, alternative and exciting team night".
He said: "We've got some newcomers coming along to challenge those businesses that took part last year so it will be a great evening with an amazing party atmosphere.
"Anyone who was there last year will remember how intense the competition got as the night wore on. We're delighted Smith & Williamson are returning to defend their title but there are plenty of teams preparing to stand in their way and deny them back-to-back victories. I can't wait to see what Bristol has got in store for us."
A range of different packages are available – for more information visit https://pingpongfightclub.co.uk/bristol
To see what happened last time Ping Pong Fight Club came to Bristol go to https://youtu.be/4kQ2WqQo1-