Circadian Trust, the firm managing leisure centres across South Gloucestershire for the local authority, has teamed up with swimming pool specialist Rio Pools to create what is believed to be a first for the UK leisure industry.
The Bradley Stoke-based firm was keen to be able to offer summer swimmers an alternative while its two permanent indoor swimming pools at Yate Active Leisure Centre were out of action for essential maintenance works.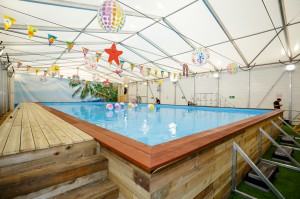 It contacted Rio Pools, based in Wotton-under-Edge, and between them they came up with the masterstroke of a pop-up pool.
The 18m x 10m pool, housed in an insulated marquee, is believed to be the first of its kind in the country and has attracted attention from councils and leisure management companies across the UK.
The temporary facility, which holds 35,635 gallons of water, has been installed in the rear of the Kennedy Way car park and comes complete with a Hawaiian theme décor. The centre is leased from South Gloucestershire Council, which funded the project.
Circadian Trust operates five leisure centre sites and two dual-use sports centres in Yate, Bradley Stoke, Downend, Kingswood, Longwell Green, Patchway and Thornbury.
Yate Active Leisure Centre manager Fran Snell said: "The £1.4m investment by South Gloucestershire Council in the refurbishment of the pool is essential to ensure it remains fit for purpose for future generations to use and enjoy.
"However, we were conscious of the number of people that use the swimming facilities at the centre every week and we didn't want them to miss out, especially during the school holidays. That's why we are so pleased to have worked with Rio Pools to come up with this innovative solution which seems to captured the imagination of other leisure providers across the country."
Rio Pools chose a timber construction method finished with a vinyl liner. The pool has its own temporary filtration, dosing, heating and air handing plant. It also has a temporary lighting rig, instructor plantroom and safety balustrades. 
The installation process involved borrowing a significant quantity of heated and treated water from the indoor pool to fill the replacement. 
Rio Pools director and contracts manager Shelley Willcox said: "Whilst there has obviously been upfront investment in creating this temporary facility, when balanced against what a commercial pool would generate in revenue from round-the-clock clubs, lessons and pool parties, a temporary facility pays dividends. This is all revenue that Circadian would have had to write off otherwise.
"The project was a big deal for us and we thought long and hard about taking it on. But we have had really positive feedback from the centre and the wider public, so it's definitely opened the door to new possibilities for venues who are looking for a solution while upgrading their own facilities."