A senior manager at South Gloucestershire-based global engineering group Renishaw is playing a key role in shaping the future of Europe's advanced manufacturing industry after being appointed to chair a new committee.
Stewart Lane, pictured, is leading the Additive Manufacturing (AM) committee of CECIMO, the European trade body representing national associations of machine tool builders and related manufacturing technologies.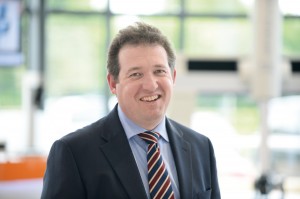 The new committee formalises its position as the European association for the AM industry and will draw on expertise from 350 AM organisations across 15 countries.
It will act as the voice of AM technologies, focussing on the industrialisation of AM – also known as 3D printing. This includes getting the right EU regulatory framework, the workforce, trade and statistics, and also builds on the work of the existing AM working group.
Stewart Lane, who has worked at Renishaw for more than 18 years – the last two-and-a-half as corporate manager – was appointed to the boards of the UK's Manufacturing Technologies Association (MTA) and CECIMO in 2015.
His new role at CECIMOs reflect Wotton-under-Edge based Renishaw's commitment to share its specialist AM knowledge as part of CECIMO's AM working group and at multiple industry events.
The innovative firm aims to further the AM industry by investing heavily in research and development (R&D), to develop the machines, software and processes to improve productivity, without compromising on quality.
Its AM machines are already used in industries spanning aerospace, medical, automotive industrial tooling and creative.
Stewart Lane said: "New and innovative manufacturing techniques are crucial to drive European industry forward. To achieve productivity and competitiveness, we must industrialise additive manufacturing.
"We are currently on the verge of this, as the technology moves from prototyping to serial production. However, we must first address the challenges in the AM industry and use these to shape industrial policy."
He said CECIMO would be critical to ensuring Europe developed the right ecosystem to make the most of the technology.
"The committee gives the European AM industry a single voice to address issues essential to competitiveness, innovation and growth. Renishaw is committed to helping CECIMO achieve this goal."
CECIMO director general Filip Geerts added: "Stewart has the right blend of skills and experience to chair our new AM committee.
"His proven track record and international experience provides the right overview to chair a pan-European committee. 
"His knowledge of the whole value chain of AM alongside his technical and commercial knowledge means he can work across all aspects of the committee's work. Stewart is an excellent advocate for the AM industry and will be a great spokesperson at our meetings and conferences."
Stewart was also a board member of the West of England Aerospace Forum (WEAF) for just over two years until 2017.