While plenty of Bristol commuters pedalled to their jobs for Cycle To Work Day this week, it's safe to say none were on a bike quite like that ridden by law firm Osborne Clarke boss Peter Clough.
Peter completed the journey from his home in Stoke Bishop to the firm's Temple Quay base on his 136-year-old penny farthing – avoiding any steep hills en route.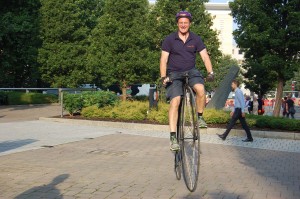 Peter, who head's Osborne Clarke Bristol office, has owned the iconic bicycle, which dates from 1881, since he was a teenager.
"My grandfather was an enthusiastic collector of old things and I found the penny farthing languishing in his garage in Cornwall when I was about 14," he said.
"I used to take it into a field and eventually I learned to ride it after falling off several times. As well as Cycle To Work Day I've ridden it on plenty of charity bike rides with a group of friends in the Veteran Cycle Club."
While plenty of his colleagues at Osborne Clarke swapped four wheels for two today to mark Cycle To Work Day, unlike them Peter went out of his way to avoid any of Bristol's hills.
"I've tried riding the penny farthing up Park Street before and I would say it is physically impossible," says Peter, who added that the reason the penny farthing's front wheel was so big is that until about 1900 no-one had worked out how to put a gear into a bicycle. 
"So going uphill is like being in 20th gear on a racing bike," he added.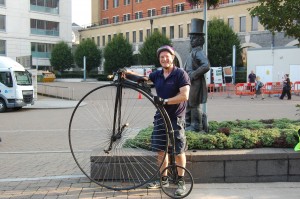 "Therefore I rode the penny farthing down onto the Portway where it is flat and cycled into work that way, past the Watershed and through Queen Square. It's good fun – and drivers were hooting at me in support pretty much the whole way."
Along with everyone at Osborne Clarke who cycled into work, Peter received a free 'biker's breakfast' in the firm's cafe, which he admitted helped to keep him going after his gruelling ride.
Peter also owns a 1903 De Dion-Bouton car, which also formerly belonged to his grandfather and which he drives on the famous annual London-to-Brighton vintage car rally.