Bristol business leaders have welcomed the publication of the 'value for money' reports on the location of the city's much-delayed arena – even if they suggest it is likely be built north of the city at Filton rather than the originally planned site near Temple Meads.
Accountancy giant KPMG's long-awaited reports analyse the economic cases for and against the original Temple Island location – on which around £9m has already been spent in preparation work – alternative uses for this site, and the rival Brabazon Hangar scheme at Filton proposed by Malaysian industrial conglomerate YTL.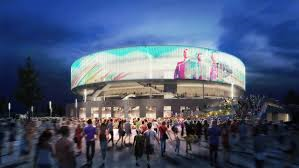 Business leaders said it was now important a decision was made quickly and work started to avoid even further setbacks on an idea that was first mooted more than 15 years ago. However, they also said vital infrastructure would be needed  to make an arena at Filton a success.
The reports conclude that the cost of going ahead with the Temple Island 12,000-capacity arena, pictured, would now cost £65m more than expected – taking the total bill to nearly £190m and almost certainly putting it out of the reach of the cast-strapped council, which has been leading on the project.
Moving it to Filton – where YTL is redeveloping the disused airfield into a new sustainable community with 2,500-plus homes, 26 hectares of employment space, three schools and a retail centre – would "transfer the strategic benefits" of the Temple Island arena, concludes KPMG.
The larger YTL site would also increase its capacity to 16,000 – making it more viable.
However, KPMG also point out that there could be "some leakage of economic benefit" from such a move as city centre shops, bars and cafes would not reap the rewards of the major venue on their doorstep.
But the third report says allowing an alternative mixed-use development on Arena Island with housing, business space, and a conference centre and hotel, would give the council a "significant return from the scheme".
Bristol Chamber of Commerce president Richard Bonner said the organisation welcomed the chance to now see "a lot of the facts and figures behind the future of the arena".
He added: "Our members from across the Bristol city region – and indeed beyond – strongly support and want to see the delivery of an arena. It's a piece of infrastructure we have long wanted up and running.
"These reports show that there are some difficult and complex issues around a forthcoming decision which need to be considered, but that an arena located in the north of the city is clearly the better option in terms of value for money and risk profile."
He said that while Filton may not be the location preferred by everyone, an arena there would serve a much larger area than just the city of Bristol.
"It further needs to be properly recognised that the northern part of our city is also undergoing very considerable change and major regeneration with lots of new homes, places of employment and cultural, education and leisure facilities, which will only complement and enhance the offer of Bristol city centre and the wider region," he added.
Proposals to re-use the Temple Island site were also important as it they would "directly create new local jobs and places for local people to live and for others to visit," he said,
However, he added: "We would however only support such a decision if the necessary transport infrastructure improvements and, in particular, excellent sustainable and public transport provision were put in place as part of this development, with the necessary backing of the local councils and the West of England Combined Authority."
Simon Peacock, Bristol-based regional lead director for property consultancy JLL, also welcomed the KPMG reports.
He said: "It looks as though the arena could go to Filton. I'll be honest, I don't think that's the optimum solution for the people of Bristol, but it is a solution – and would deliver a much-anticipated and painfully long-awaited major entertainment venue for the only UK core city without one.
"In an ideal world, there is no doubt a city centre location would be best, but regrettably we are not in an ideal world. If the YTL site at Filton is the only way to get the thing built, because of the level of public investment required for the Temple Quay site – money the council simply does not have – then we must press ahead."
He said what would be crucial to success of the Filton site was transport. "We must ensure public investment goes into the surrounding infrastructure so that, contrary to current concern, people are not forced to drive, but have practical, comfortable and affordable public transport options, and the economic benefits are shared within Bristol.
"But before that happens, there needs to be some level of assurance from YTL that if they get the infrastructure, Bristol gets its arena. Walking away part way through if 'costs overrun' or 'commercial viability' is threatened, cannot be allowed to happen."
Bristol North West MP Darren Jones said the value for money reports made a "clear economic case" for the arena in north Bristol and not Temple Meads.
However, he also said he would only support an arena in his constituency if it came with significant transport investment.
Bristol Mayor Marvin Rees called for the KPMG value for money reports on the arena last year after spiralling costs linked to the project. They will now go before extraordinary session of the council's Overview and Scrutiny Management Board before a final decision is made at the council cabinet meeting on July 3.