Business West, the organisation behind Bristol Chamber of Commerce, has called on politicians to stay out of any decision to increase the Minimum Wage.
The plea, by Chamber of Commerce & Initiative executive director James Durie, pictured, comes after Chancellor George Osborne hinted that he may raise the Minimum Wage by an above-inflation amount. Business Secretary Vince Cable has also signalled his approval for an inflation-plus rise.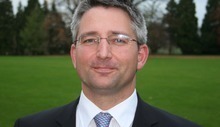 The recommended level of any increase is made by the Low Pay Commission – an independent body made up of employers, trade unions and academics. The Commission will report next month on its recommended Minimum Wage level and any likely impact on jobs. Any increase would start in the autumn.
The Minimum Wage now stands at £6.31 an hour for people over the age of 21. Mr Osborne is said to favour an increase that will take it to £7.
Mr Durie said: "We are concerned by politicians trying to set private sector wage levels. The Low Pay Commission has been set up to objectively evaluate the Minimum Wage and we should leave it to them."
He said Business West also understands the concerns of those employers who insist the increase should be set against continued cost pressures for many businesses.
However, the organisation continues to support a move to the Living Wage – which, at £7.45 an hour (£8.55 in London), is higher than the minimum wage. A number of mainly public sector employers have adopted the Living Wage as their level of basic pay. It is supported by Bristol Mayor George Ferguson, who has pledged to bring it in for City Council employees and has recommended other employers in the area adopt it.
"We recognise both the everyday challenges for those on the lowest wages and the business challenge to recruit and retain the best people," said Mr Durie. "It is for both these reasons that Business West encourages our 16,000 members to consider the Living Wage concept as a part of a sustainable business strategy.
"However, despite early economic recovery signs, we also appreciate the tough trading conditions and margin pressures still faced by many companies, particularly on the high street, and any obligatory increases in the Minimum Wage may well have other consequences."
Earlier this week Mr Osborne said the economy could now afford to raise the Minimum Wage, which is paid to an estimated 1.35m people.
Its value has fallen in real terms since the financial crisis of 2008 as increases have been below inflation – something Mr Osborne blamed on Labour. If it was keeping pace with inflation the level would reach £7 in 2015/16. Inflation now stands at 2%.