Administrators have been appointed at troubled Bristol-based pharmaceutical manufacturer Avara Avlon Pharma Services, putting a question mark over the jobs of all its 270 workers.
The firm makes active pharmaceutical ingredients at a 100-acre site in Avonmouth, pictured, which was acquired by US-based Avara Pharmaceutical Services from UK drugs giant AstraZeneca in 2016.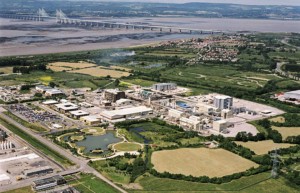 AstraZeneca is understood to be Avara Avlon Pharma Services' sole customer.
David Rubin and Asher Miller of David Rubin & Partners have been appointed as joint administrators.
David Rubin said: "Avlon has experienced financial difficulties in recent months as a result of a major contract with a customer coming to an end.  The joint administrators are now managing the site, whilst they seek a buyer for the business and assets.
"The main issues here are keeping the site operational and ensuring that all health, safety and environment obligations are complied with. 
"We are working closely with the highly professional and experienced workforce to do everything we can to obtain the best outcome for all stakeholders. 
"We have already secured an agreement with the major customer that gives the business immediate short-term funding and means that we do not immediately have to consider mass redundancies."
The administration comes just over two years after Avara Pharmaceutical Services stepped in to buy the massive site from AstraZeneca and which at the time it described as a centre of excellence. It pledged to keep on all 210 employees.
It said it would continue to manufacture the AstraZeneca products made at Avlon while also looking to bring new business. 
AstraZeneca announced in December 2014 that it would close Avlon in late 2016 or early 2017 as the patents expired on some of its medicines.
The plant had been producing the active ingredient for AstraZeneca's cholesterol-lowering Crestor treatment among other drugs.
AstraZeneca's decision to shut down the plant sparked its leadership team into action to find a buyer which could bring new business to the area.
Connecticut-based Avara, part of a larger manufacturing business, has two other pharmaceutical manufacturing sites and at the time it acquired the Avlon site had plans to expand its network to up to 10 sites around the world. Shortly before taking over Avlon it acquired a US factory from Japanese pharma firm Astellas.