Bristol Chamber & Initiative has welcomed another decrease in unemployment but warned that "fundamental weaknesses" remain in the economy which threaten to hold back recovery.
Figures from the Office for National Statistics (ONS) published this week show unemployment across the South West fell by 2,000 between August and October, taking the region's jobless rate down 0.1% to 4.8%.
At the same time, the number of people in work in the region climbed by 18,000 during the quarter to 76.4%.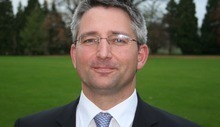 The South West remains below the national average for unemployment and above it for job creation, the figures show.  However, across the country youth unemployment was unchanged at 16.6%. While this is down from 20.7% a year ago it remains above both average unemployment and pre-recession levels.
James Durie, executive director of Bristol Chamber & Initiative, part of Business West, pictured, said: "We have seen yet more positive news coming out of the labour market, with unemployment down both nationally and here in Bristol and the South West.
"As we close out a year that saw the UK finally pull out of a damaging recession and unemployment nosedive, this is yet another reason to celebrate.
"However, this is no time for complacency. 2014 will be remembered as the year we pulled out of the downturn, but now we must secure it.
"Despite growth there are fundamental weaknesses to be addressed in both the labour market and the wider economic backdrop. For example, falling unemployment this year has masked stubbornly high youth unemployment and we constantly hear Bristol firms cry out about skills shortages caused by the current mismatch between education and employment."
He said this year's labour market statistics could be seen as an analogy of what the country faces on a wider scale.
"Throughout the year we have seen sparks of good news, such as increases in GDP and business confidence, but roadblocks still remain to securing long term growth," he said.
"We now face a crucial time in the electoral cycle, and irrespective of which party forms the next government in May, change must happen which drives growth, aspiration and enterprise."
Business West will release its business manifesto in the New Year, which it will use to ensure that the voice of local business is heard during a decisive political time.