Bristol-headquartered strategic communications consultancy JBP landed three awards at a prestigious ceremony to celebrate the South of England's public relations industry.
The agency, which also has offices in Cardiff, London, Manchester and Warwick, landed one Gold and achieved runner-up Silver status in two other categories at the regional Chartered Institute of Public Relations (CIPR) PRide Awards.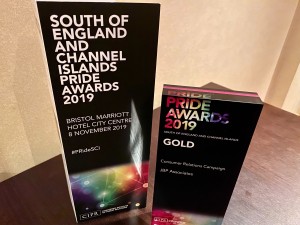 JBP received the Gold award in the Consumer Relations Campaign category for VApril – a national consumer awareness programme for vaping that the company runs on behalf of the UK Vaping Industry Association.
The judges were particularly impressed by JPB's use of client research as well as their own commissioned research to develop their strategy.
They went on to say: "Their achievements were excellent with a range of industry, consumer and influencer advocacy and there was evidence of clear behaviour change among smokers who were transitioning to vaping as a result of the initiative".
The agency also gained Silver for Outstanding Public Relations Consultancy and for its work with First West of England in the Transport or Automotive Campaign category.
JBP was also a finalist for the Integrated Campaign and Not-For-Profit Campaign awards.
JBP managing director Chris Lawrance said: "We are absolutely thrilled to have been recognised for all our hard work and achievements. It's testimony to the tireless efforts of our team and of our strategic and creative capabilities, which ensure successful campaign outcomes."
JBP which celebrated its 35th anniversary this year, has a client roster that includes national and international organisations such as E.ON, First Bus, National Grid, Palletways, SodaStream and the UK Vaping Industry Association. 
More than 190 PR professionals attended the CIPR Pride awards at the Bristol Marriott Hotel City Centre.
The CIPR said: "The depth and breadth of submissions never ceases to impress the judges and that is again the case this year with a wonderful array of entries from regular contributors and new entrants.
"Year-on-year, competitors push the boundaries as practitioners embrace new ideas and routes to market, demonstrating the exceptional quality of work that is on display across the South of England and Channel Islands."
The awards were sponsored by Kantar Media, Specialist Speakers, Moxie & Mettle and Flicksbox.