The battle of the bats returns to Bristol in May when the city's third Ping Pong Fight Club takes place – and businesses are being urged to sign up to enter teams for the unique, all-action event.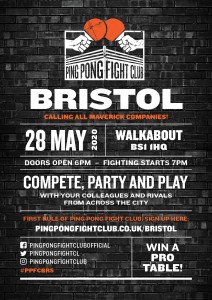 This year the popular table-top challenge moves to the larger venue of Corn Street's Walkabout. 
Organisers are seeking 16 of Bristol's finest businesses to step up to the table and enter a team for the fun, inclusive and spectacular night of entertainment on May 28.
Each four-strong team can also bring more than a dozen supporters – guaranteeing a highly-charged and competitive atmosphere. 
As well as thrilling table action, the evening promises DJs, ping pong robots, inter-company beer pong, VR ping pong, pro player tips, tricks and challenges, social zones, pop-up bars and street food.
There are also huge prizes, including a new pro table for the winning team.
Ping Pong Fight Club began six years ago as a stand-alone annual tournament in London but has since spread around the country, arriving in Bristol in November 2018.
The past two tournaments were staged at Paintworks. The move to Walkabout aims to enhance the offering – with more activities for non-players, a more extensive range of food and a full-on party atmosphere.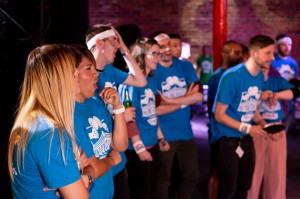 Ping Pong Fight Club founder Ade Leigh says the visits to Bristol are a high point for his team.
He said: "Bristol certainly knows how to party! We've had two great evenings there and we're coming back for a third.
"There's nothing quite like Ping Pong Fight Club for getting your staff engaged. We always get great feedback from our Bristol events – they have an amazing atmosphere.
"You'll meet your rivals from across the city, engage in some jovial banter, have a total hoot with your work colleagues and even make some new business contacts over the ping pong tables. 
"So if you're looking for inspiration for an inclusive, fun team night out, you may have just found it! Quite frankly, you'll have more fun than you can shake a paddle at!"
Teams are made up of four players and play in T-shirts bearing their company logo. Supporters also receive special T-shirts to show their allegiance.
A range of packages are available at https://pingpongfightclub.co.uk/bristol