Businesses in Bristol's rapid-growth tech sector have raised nearly £248m so far this year to fund their expansion – making the city the UK's third busiest hi-tech hub.
The figure is not far behind the total of £235m raised in the whole of 2018, according to new research by Tech Nation, the scale-up network for entrepreneurs in the sector.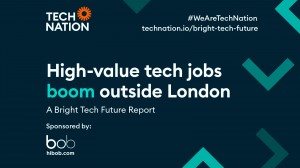 The figures confirm Bristol's standing as one of the UK's leading tech hubs with only Manchester and London companies raising more since the start of the year.
Some £162m of this year's total is accounted for by the investment in fast-growing Bristol green energy group OVO by Japanese industrial giant Mitsubishi. The deal, which gave Mitsubishi a 20% stake in OVO, is being used to accelerate the development of OVO's intelligent energy technologies unit.
The investment means Bristol now has two so-called unicorns – private companies valued at over $1bn (£800m).
Graphcore, the Artificial Intelligence (AI) and machine learning tech company, raised $200m from venture capital investors at the end of last year to make it the city's first unicorn.
Bristol mid-air touch technology firm Ultrahaptics, in which Mayfair Equity Partners took a 20% stake last month, is on its way to unicorn status, according to Tech Nation.
Its report Bright Tech Future Jobs/Skills also reveals that Bristol's tech businesses achieved a combined turnover last year of £7.9bn and employed almost 25,000 people. It also shows that a total of 226 tech businesses were born in the region in 2017.
To celebrate these successes and present the findings of its jobs and skills report, Tech Nation held a roundtable discussion in Bristol earlier this week with some of the leading figures in the city's tech sector.
Graphcore CEO Nigel Toon said: "We're delighted to welcome the Tech Nation Bright Tech Future Tour to Bristol. As one of the city's tech unicorns, we're proof of its thriving digital sector, and the capabilities of businesses in the area.
"We're incredibly proud of the contribution Bristol makes to the success of the UK tech industry, and this event provides a fantastic opportunity to consider what the future of the sector may look like."
Zara Nanu, CEO of Bristol-based Gapsquare, which has created self-use software that allows companies to analyse and reduce their gender pay gap, added: "It's great to see Bristol take a leading role in AI development as the city has strong skills in this area.
"Not only do I see strong operational and engineering skills in growing tech companies, but also a commitment to strong ethics and principles.
"The networks  of developers, experts and other stakeholders that are here in Bristol and the West Country are passionate about making these technologies of the future fairer."
Tech National head of insights George Windsor said in recent years, Bristol had asserted itself as one of the UK's leading tech hubs.
"The Tech Nation reports of 2019 and 2018 highlighted its role as one of the most productive tech clusters in the UK, as well as revealing how it has created thousands of jobs in the area," he said.
"This event will be vital in helping us pull together the valuable insights needed to shape the industry going forward."
Digital Secretary Nicky Morgan also praised Bristol as one of the country's leading tech hubs, spearheading the development of robotics and autonomous vehicles and creating thousands of jobs.